The YI M1 is a micro four-thirds system camera that uses a 20.2 megapixel Sony CMOS sensor as the heart of the system. YI as a camera manufacturer is known more for their action camera systems. This happens to be their first ever foray in to the mirrorless interchangeable lens segment. Does the YI M1 make for as interesting an offer as its action camera counterpart? Let's find out.
Here's a quick summary
2 megapixel Sony IMX269 CMOS sensor
Micro four-thirds system (2x crop factor)
UHD / 4K video capability at 30p
5 fps continuous shooting speed
3″ 1.04m-dots touchscreen without tilt
Built-in Wi-Fi and Bluetooth connectivity
Maximum ISO of 25600
81-point contrast detection auto-focusing mechanism
Compatible with more than 50 other MFT lenses from other manufacturers
Sensor
The YI M1 comes with a capable Sony sensor with an effective resolution of 20.13 megapixels and capable of producing large fine JPEGs and RAW frames of the size 5184 x 3888 pixels.
Crop factor
2x crop factor compared to the 35mm sensor.
Low light (and High ISO) performance
Low light performance is acceptable. There is some noise in the shadows. Since you cannot shoot both JPEG and RAW at the same time you have to take a call whether you wish to shoot in JPEG and be ok with the potential noise or shoot in RAW and take care of it in post. This will take some getting used to as well. Or else you could shoot everything in RAW and decide later.
Auto-focusing
Auto-focusing with the YI M1 is a bit of a challenge. There are some cameras you can manually focus far better than the auto-focusing performance of the YI M1. In difficult lighting conditions, or when pointing at the sun, for example, the camera can give you some focus hunting jitters.
Auto-focusing lacks any sort of subject tracking. That is apart from face detection. The big problem, when shooting videos and trying to change the focus point using the touchscreen is that there is no such option on the camera. Auto-focusing is completely auto which means you have no control over where the camera focuses.
Further, there is no instant switch between auto-focusing and manual focusing while recording. You have to get into the menu option before you can do that. Though the YI M1 is designed to replace smartphone dependency and in the bargain graduate users to a larger sensor, the lack of auto-focusing versatility is a problem.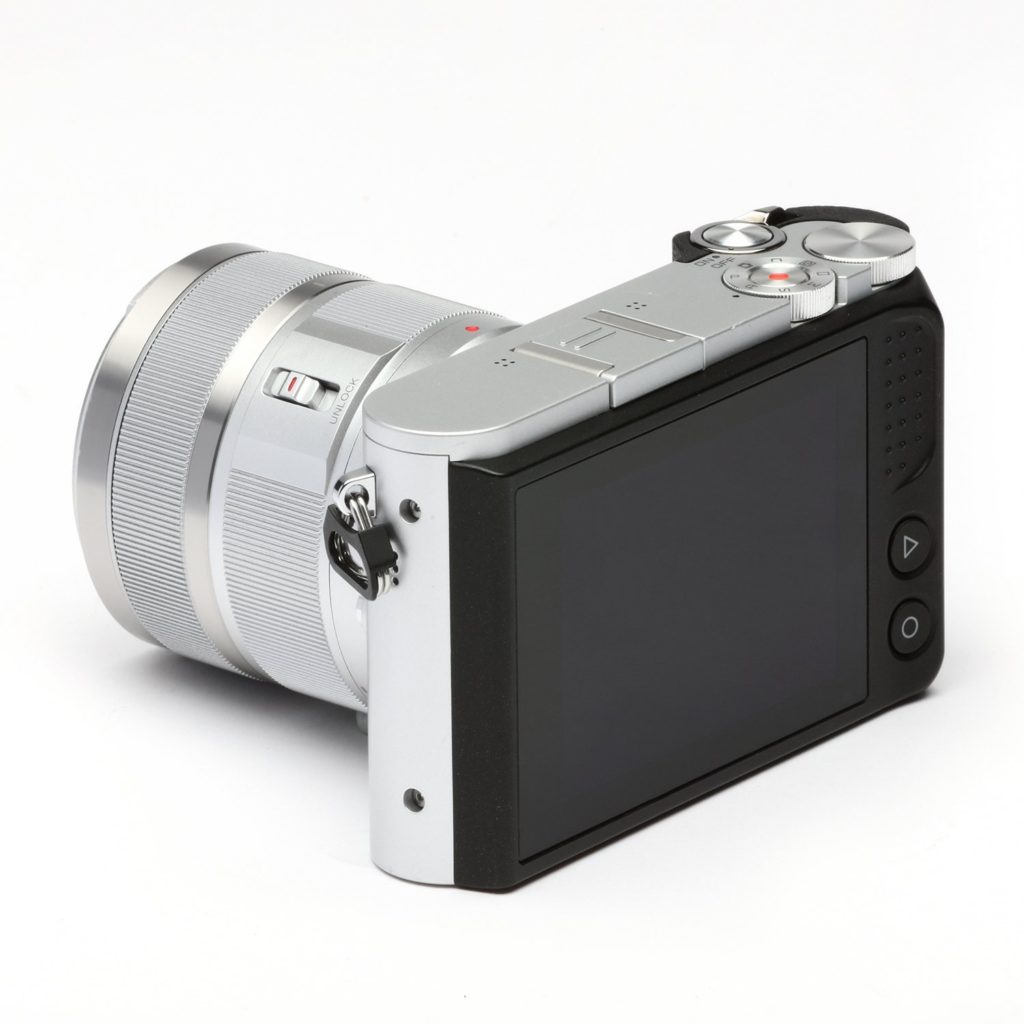 Buttons and Layout and Physical Changes
LCD Monitor and Viewfinder
There is no built-in electronic viewfinder (this is a mirrorless camera so no question of an optical viewfinder).
The rear LCD touchscreen is what makes up the main control and access to the menu of the camera. Though with the launch of this camera YI has been trying to woo customers away from the smartphone segment, it has kept the smartphone experience intact with this large intuitive touchscreen.
Much of the menu as well as the manual focusing option (for the prime lens) is accessible via the touchscreen.
Image Stabilization
The lenses that were launched with the YI M1 did not have any image stabilization. Image stabilization is built into the camera body and it is digital. It works for the most part. In video mode, image stabilization will only work when you are shooting HD.
Built-in Wi-Fi
The YI M1 does come with built-in Wi-Fi and Bluetooth connectivity.
Flash
There is no built-in flash on the YI M1. But there is a hot-shoe mount. So, you can buy a compatible flash and use it to illuminate your less than perfect lighting scenes. Maximum sync speed is 1/125 sec.
Continuous Shooting Speed
The YI M1 has an ok continuous shooting speed of 5 fps. 5 fps gives you probably just enough shots to not make a fool of yourself in a fast moving situation. But then this is not the sort of camera you would be shooting birds in midflight, an equestrian competition or for that matter a soccer game.
YI M1 Video Shooting Abilities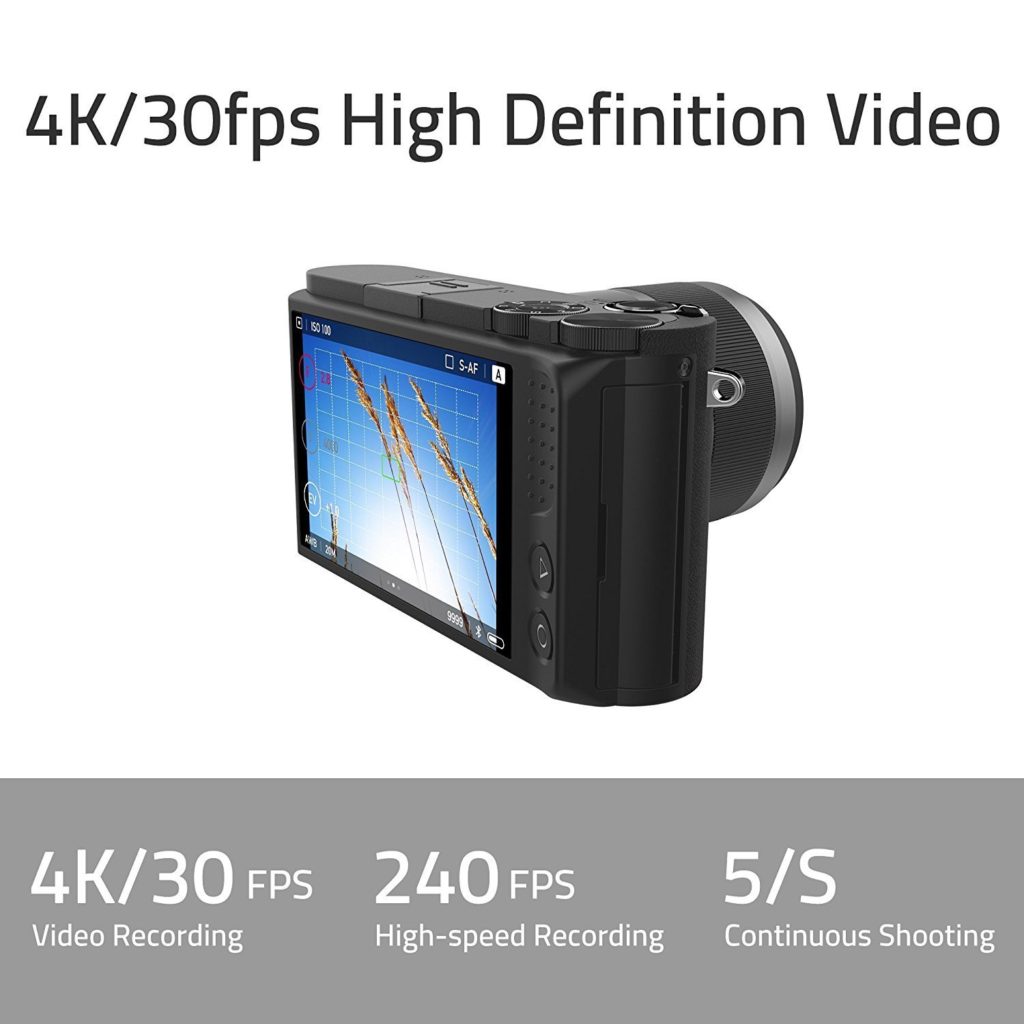 The YI M1 comes with a great action camera pedigree. However, this camera does not come with either a tilting / flipping screen (the touchscreen is fixed) or an external microphone input. While the external mic jack would probably not be missed by most amateur shooters, the absence of the tilting / flipping screen will certainly be.
Having said that the YI M1 does shoot 4K / UHD resolution videos at a frame rate of 30 fps. You can alternatively shoot at a scaled down 2048 x 1536 or full HD at 30 or 24 fps respectively. There is also a full HD 60 fps option which creates nice 2x slow motion results when played back at normal speed.
There is a built-in stereo mic that records sound inputs. But the fact that it has no noise-cancelling features, means in windy situations your recorded audio would be unusable. You would need to use an external audio recording set-up and then sync the two, in case you need professional quality videos.
Two features on the YI M1 you may not have expected are focus peaking in manual mode and focus magnifier. Focus peaking is a much easier way to lock focus manually when shooting videos and of course focus magnifier helps as well.
Of course the digital image stabilization helps as well. All in all an OK camera to work with specifically because it has 4K.
Yi M1 Image Quality
The YI M1 comes with 5 different JPEG shooting modes. There's a high contrast black and white mode which you would enjoy shooting with if you love those sharp contrasty results with a deep depth of field. There is also a standard black and white version as well. Plus, there is a portrait mode, a vivid mode and the standard shooting mode which will come in handy for shooting in 90% of the times.
Battery
The rechargeable lithium-ion battery is rated at 900 mAh. It is rated to give around 380 shots.
Build Quality
The design is not at all fancy. It is simple, minimalist and smooth to the touch. Even the left hand 'edge' if at all you can call that one, is rounded and thus do feel a bit weird for first timers using it.
The top panel has two dials. Both are recessed well, (too well actually for comfort) into the panel for easy use. The first dial is the main shooting mode dial. This is where you will find the various shooting modes. The video recording button is located right at the middle of this dial.
The other one does the adjustment and stuff. So if you want to change the aperture or the shutter speed, this is the dial that does it. And if you are in the program mode turning it will change the exposure value. There is a third dial as well and this is the one that takes care of turning on or off the camera.
There is a tripod screw mount at the bottom of the camera. This is what assists you in attaching a tripod to the cameras. At the bottom is the open latch to access to the battery compartment. Nothing fancy here except that there is small lever that pops in place when you insert the battery. This lever prevents the battery from falling out of place in case you open the compartment accidently.
The right side has a press open flap which houses the SD card slot (accepts up to 256 GB of SDXC UHS-1), the micro HDMI charger socket and a USB socket. The USB socket allows the battery to be charged while it is inside the camera.
The outer body of the YI M1 is designed using Arnitel Thermoplastic. This material is rated to be skin friendly. This should interest you in case you are conscious about things such as these.
There is little or no weather sealing on this camera body. I wouldn't recommend using it in inclement weather. Neither will I recommend using this in dusty situations. Even the accompanying lenses are no better. YI provides a dual lens kit and both of them are essentially plastic shells with glass and some metal components.
Overall weight of the camera with the battery is just 280 grams.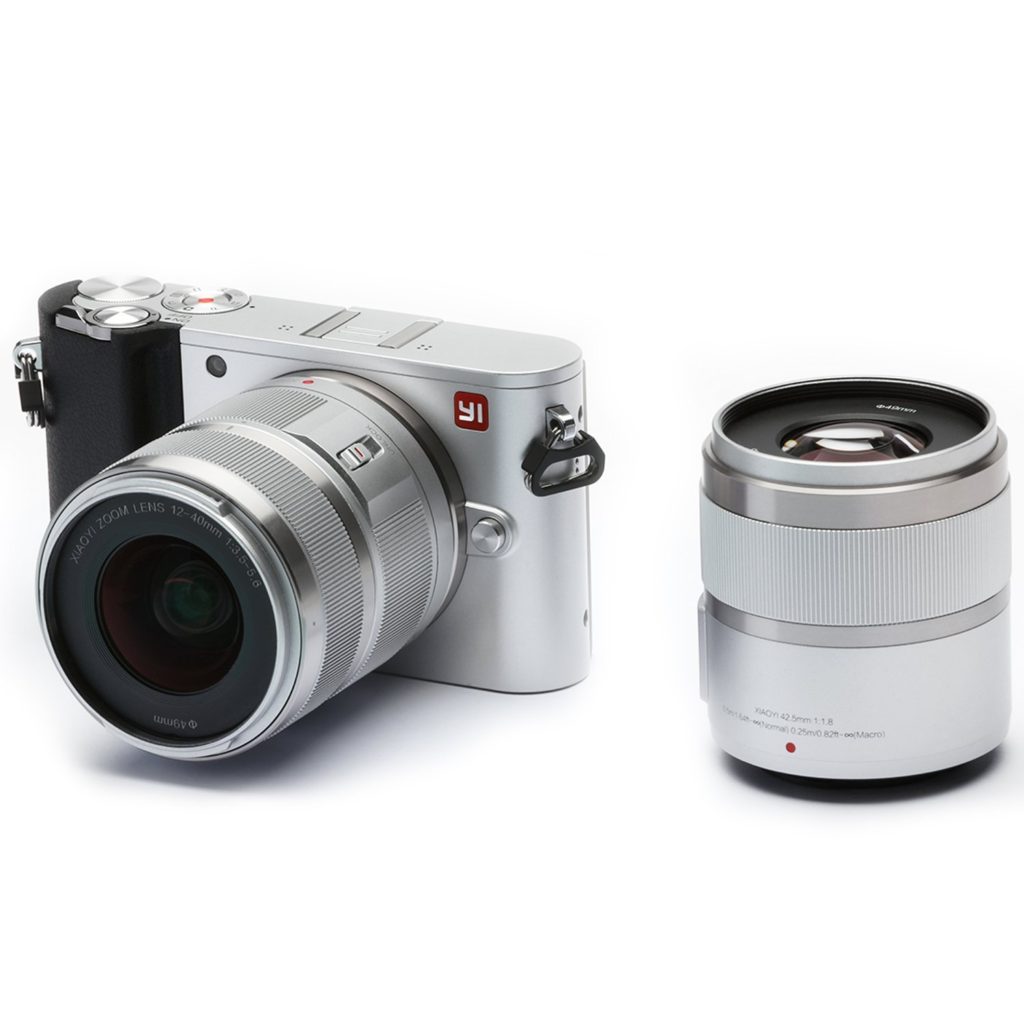 Conclusion – Is the Yi M1 Worth Buying?
Despite their experience in the action camera segment there are many disadvantages to the new YI mirrorless system. For one, there is no option to simultaneously shoot both RAW and JPEG images. Then the built quality isn't the most exhilarating either. Which means you cannot use this camera in all weather conditions. Neither should you hold the lens attached to the camera because the lens mount is plastic. As a matter of fact we did not like the two lenses that YI ships this camera with. You would be better off using a compatible MFT lens with better optical quality and better features.
That said, this camera is aimed at users who have been shooting with a smartphone thus far and want the same intuitive features but with a better sensor. For them the YI M1 is a good choice.
Initial use results showed that the camera has an ok video quality even though the resolution is 4K. Because of the image stabilization works you can at least create some usable videos. But it is pertinent to mention that the performance of image stabilization is not that great. It shakes and jerks when you zoom in and out. Plus, there is a bit of wobbling of exposures as well. Some of these issues were addressed when a firmware update was issued later on. But there are still some lingering issues. One of them is that image stabilization in video mode will only work when you are shooting HD and not 4K.
There are some cool shooting modes like the panorama stitching mode and the built-in HDR mode, a vivid mode as well as a couple of black and white monochrome modes. These are the easy to use options which are reminiscent of what you would likely shoot with a smartphone. All in all a good camera for stills. And tripod based video shooting. It is very cheap on Amazon at only $299 currently (2017).
If you spend a few more bucks, I'd get something like the Olympus em-10 instead.
Thanks for reading, hope you found this useful!