Priced at nearly 2000 dollars (US) the OM-D EM-1 is a formidable camera. This is essentially a mirrorless system and one that is powered by a 20.4 megapixel Live MOS sensor. The Mark II version of this camera has pretty big shoes to fill in because the original OM-D EM-1 was an excellent camera to start with. It was one of those mirrorless micro four-third systems that revolutionized this segment and also gave the 4/3 system a breadth of fresh air.
Here's a quick summary
4 megapixel Live MOS Sensor without a low pass filter
TruePic VIII Dual Quad Core Processor
36m-dots LCD electronic viewfinder
3″ 1.04m-dots vari-angle LCD touchscreen
DCI 4K 24p video recording capability and UHD video recording at 30p
Built-in 5-axis sensor-shift image stabilization system
15 fps continuous shooting speed (10 fps with continuous AF)
Maximum ISO of 25600
121-point all cross-type phase detection auto focusing mechanism
Completely weather sealed design
Low Pass Filter or the Absence of it
The OM-D EM-1 Mark II does not have a low pass filter. Straightaway you are going to get some difference in the frames produced by this camera compared to the ones shot with a 'traditional' sensor. Namely more detail. For product shots and stuff that additional amount of detail is a nice thing to have.
Crop factor
Micro four-thirds systems have a crop factor of 2x. This means if you are using a 50mm lens on the camera the field of view through the viewfinder is going to be equivalent to 100mm on a 35mm format.
Auto-focusing
Auto-focusing is blazingly fast in still mode. The OM-D EM-1 Mark II has a blazingly fast auto-focusing mechanism powered by 121 phase detection AF points. All of which are cross-type. Meaning, they can look for contrast in both horizontal and vertical axis giving you greater speed and more accuracy. The AF points cover almost all of the screen giving you unparalleled AF coverage for all your shots.
There are, however, going to be moments when the camera will go in and out of focus momentarily, such as when shooting in low light situations and especially when shooting videos.
The OM-D EM-1 Mark II comes with a zone focusing mechanism. Most DSLR systems come with this feature. It is a sort of a way of telling the camera to limit its focus hunting within a restricted zone. This also increases auto-focusing speed theoretically. There are three zone areas that can be earmarked – 1, 5 and 9. They work as a cluster of AF points and the camera's AF system limits itself to within these points when locking focus.
Continuous auto-focusing in the video mode is a tad slower than comfort. I already referred to this above once. Personally, I don't quite like the fast jerky auto-focusing mechanism in some cameras, especially when shooting videos. I prefer the slower, but smoother focus correction. But even then the OM-D EM-1 seems slightly out of sorts in locking focus continuously in video mode. At times it does an awful amount of focus hunting. It does not help if you try this when shooting videos in less than perfect lighting conditions.
Buttons and Layout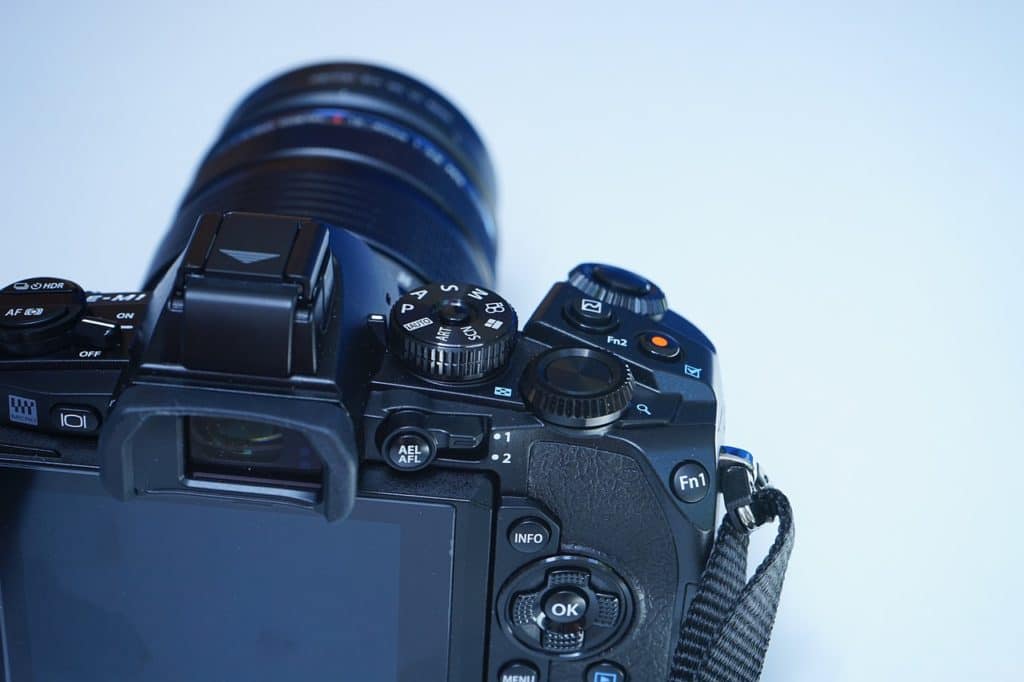 There are ample options to change the shooting settings on the camera from the top panel and the rear buttons and dials. For those extra settings you need you have to switch to the Super Control Panel (via the rear touchscreen LCD).
Having said that, video controls are not readily available from the Super Control Panel. However, you do get to use the separately customizable function buttons but for changing stuff like audio levels, headphone levels and so on you will have to poke a few times on the touchscreen menu. The main dials are all on the right side of the camera which means you can operate the camera pretty much with one hand using the other for support.
Image Stabilization
One of the best in the business when it comes to shooting stills as well as videos. The 5-axis sensor-shift type image stabilization system works brilliantly to steady hand-held panning shots when shooting videos. As a matter of fact when you review the footage it almost feels like you are floating on a cushion of air or something. The shots are super smooth with no indication of jerking even though you may be walking with the subject you are filming.
LCD Monitor and Viewfinder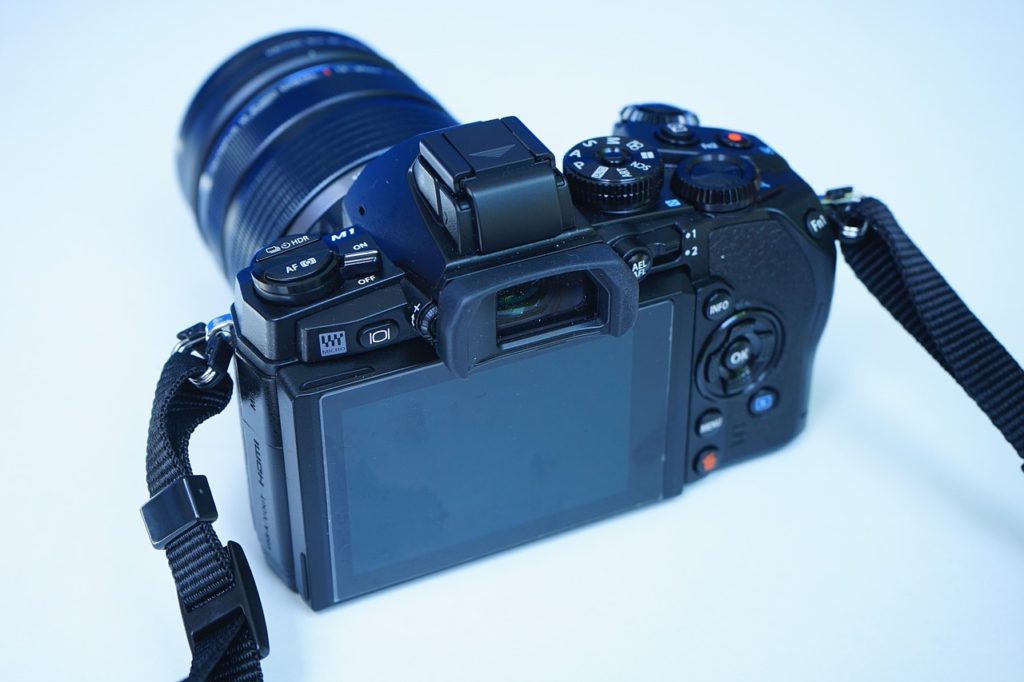 The OM-D EM-1 mark II gets a 2.36 m-dots electronic viewfinder. 'Large' and 'prominent' are the two adjectives that come to my mind immediately. However there is a downside too.
A thing that may not be immediately apparent, unless you are an expert user with years of shooting experience with an interchangeable lens camera and a proper viewfinder, is the viewfinder display lag. Raise the camera to your eye level and then start panning right to left and left to right. Continue doing it for a few seconds and you will notice the problem. It would appear that the viewfinder is trying to 'keep up' with the lens swinging from side to side.
Aiming through the viewfinder the right two-thirds of the rear LCD screen becomes a focusing trackpad of sorts. You can swipe your index finger over this area to move the focusing point around.
The rear LCD screen is a large 3″ 1.04m-dots vari-angle touchscreen unit. I love the vari-angle LCD screen because it is a whole lot more practical compared to something like the tilting screen. It allows you to get the kind of shots that only a vari-angle screen can without coming in the way of a tripod / ball head.
Built-in Wi-Fi
The camera comes with built-in Wi-Fi connectivity. Built-in Wi-Fi allows you to connect it with an external computer or device and transfer images and videos wirelessly over an available network. Wireless connectivity also ensures that the camera can be remote controlled by a smartphone or tablet to shoot images and videos.
Continuous Shooting Speed
The OM-D EM-1 Mark II comes with an incredible continuous shooting speed of 15 fps with the mechanical shutter. Thanks to the mechanical shutter which is capable of firing at 1/8000 sec. The electronic shutter pushes the limit to even higher – an incredible 1/32000 sec.
At that burst speed, however, you won't get continuous auto-focusing. With continuous auto-focusing the burst speed is still a fantastic 10 fps. This is comparable with the best in class burst speed of top of the line DSLR cameras.
And did I mention that there are also two other high speed shooting modes? One shoots at 18 fps and the other at 60 fps. You won't get auto-focusing but you get an incredible number of images to choose from.
For subjects that are moving basically at a parallel distance from the camera you can switch to electronic shutter and take advantage of the 15 fps shutter speed. For subjects that are moving erratically you need continuous auto-focusing and therefore need to shoot with the mechanical shutter and consequently the 10 fps maximum burst speed.
The OM-D EM-1 Mark II can shoot a maximum of 84 RAW frames or about 117 JPEG frames at 15 fps before the buffer overruns. At 10 fps it can shoot a maximum of 148 RAW frames or an unlimited number of JPEG frames. Either way that's more than enough. Fast continuous shooting speed is useful when shooting birds, animals, sports and action photos.
Thanks to the dual SD card slot (one UHS I and one UHS II), it is possible to test this feature out to your heart's content. Needless to say, UHS II will handle faster bit rate efficiently which is why it is recommended to use it for video shooting.
Pro Capture Mode
Another interesting shooting mode on the OM-D EM-1 Mark II is the Pro Capture Mode. In this mode the camera buffers 14 frames before you press down the shutter release all the way. That means if you notice something interesting you should be able to capture a few workable frames.
There are some downsides though. You still have to hold the shutter half way down in order to initiate the buffer. Also, when you are using the Pro Capture Mode the rear LCD screen gets a bit jittery like a smartphone unable to keep up the necessary frame rate when running a game. This affects your ability to shoot. And in any way, 14 frames is a somewhat a par number especially when compared to other systems that also provide a similar feature.
ISO
Native ISO range of the camera is 200 – 6400. In extended mode it can shoot from 64 – 25600. However, with a small crop sensor, this is not the type of camera that you should attempt at shooting anywhere near its maximum ISO range. ISO 3200 is more or less the limit of this camera's usable low light capability.
High Resolution Shot
One of the things that we loved on the OM-D EM-5 Mark II was the High resolution Shot option. Well the OM-D EM-1 Mark II also has this feature. But in the new camera this is improved. With the OM-D EM-5 Mark II elements moving inside the frame created weird artefacts. Things like leaves moving in the wind, or smoke etc. were not handled properly. With the new image processor these things are handled better. In other words you now have a larger practical use of the High Resolution Shot.
Video Shooting
The OM-D EM-1 Mark II shoots true 4K in camera (4096 x 2160p) at a frame rate of 24 fps. You can scale it down to UHD 3840 x 2160p at a frame rate of 23.98 or 25 or 29.97 fps. Aspect ratio of your clips is 16:9 and the longest clip length possible is 29 mins. The camera comes with a built-in stereo mic which captures good sound quality. There is an optional external mic input. You can plug in an external noise cancelling mic to record better quality sound.
The custom function buttons on the camera are really cool to work with. They can be programmed to work differently for stills and videos. So that each time you switch to video the function buttons will work differently (from the way you have them customized for still shooting). When you revert back to shooting stills the functions revert back to their previous settings as well. There is a built-in punch in magnifier option that helps in focusing a shot. But it does not work when you start recording. You have to rely on focus peaking one you are recording.
Time-lapse Shooting
The EM-1 Mark II comes with a built-in time-lapse feature. It's capable of producing in-camera 4K time-lapse sequences.
Image Quality
A better noise handling results in better dynamic range in low light situations. Details are better too, thanks to the absence of the low pass filter. Blacks are a whole lot cleaner. In good light there is nothing to complain about. Color rendition is good.
Build Quality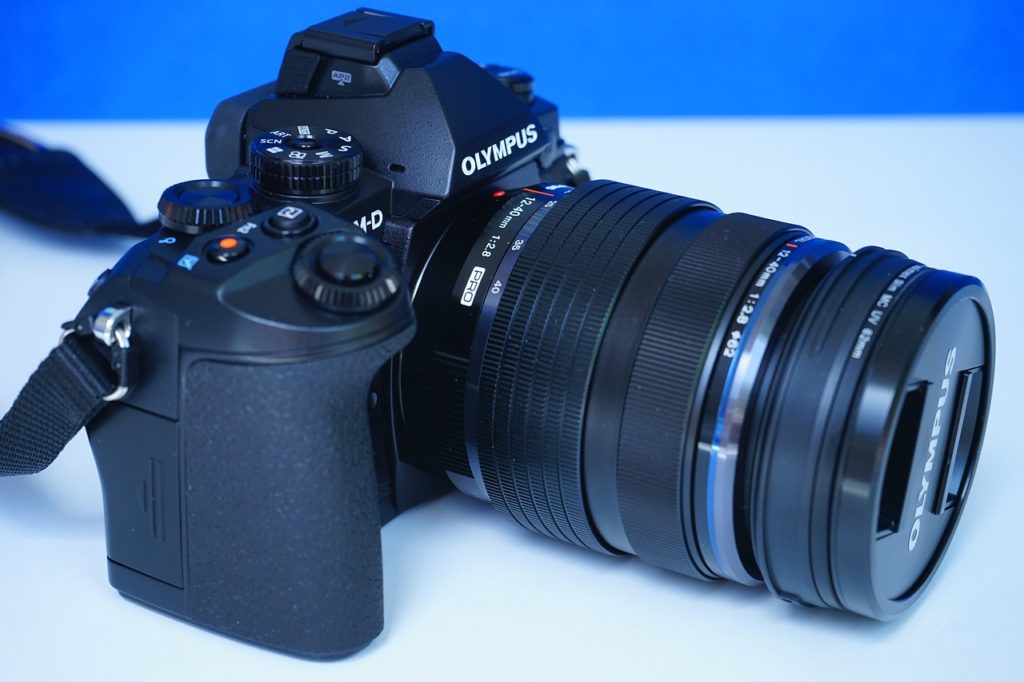 If I were to expend just one word describing the build quality of the camera, it would be 'excellent'. Even then it would be an understatement. The camera is built out of magnesium alloy material and features a hermetical sealing that blocks the weather outside. This camera will take quite a few blows and will keep churning digital stills and videos without any problems.
This is a true outdoor camera built to endure anything that Mother Nature can throw at it. Completely weather sealed, you have absolutely no issues using the camera in inclement weather, in dusty, cold, humid or wet conditions and yet get away with fantastic images and videos.
Ergonomically the camera feels great in hands. The right hand grip is prominent and gives a secure feel when your fingers are wrapped around it. Having said that for those with slightly smaller hands the grip may appear a tag bigger.
One thing we did not like is the shutter button. It's too sensitive! The slightest accidental touch sets it off and you get a several unintended frames which you then have to delete. Even half-pressing the shutter release to activate AF can inadvertently push it all the way, leaving you frustrated.
Battery Life
The battery itself is huge. Pop it out and it does feel beefier eliciting the kind of satisfactory response that you normally see when someone pops in a battery grip to a camera. Olympus rates this to shoot 440 shots. But you are likely going to squeeze a lot more than that on a full charge and in optimum weather. Please note weather conditions do impact battery life. So, if it extremely cold you are likely going to run out of power much quicker than its recommended duration. In any way if you are shooting in continuous burst you are going to end up with more than 2000 photos without spending as much as half of the power in the battery.
Conclusion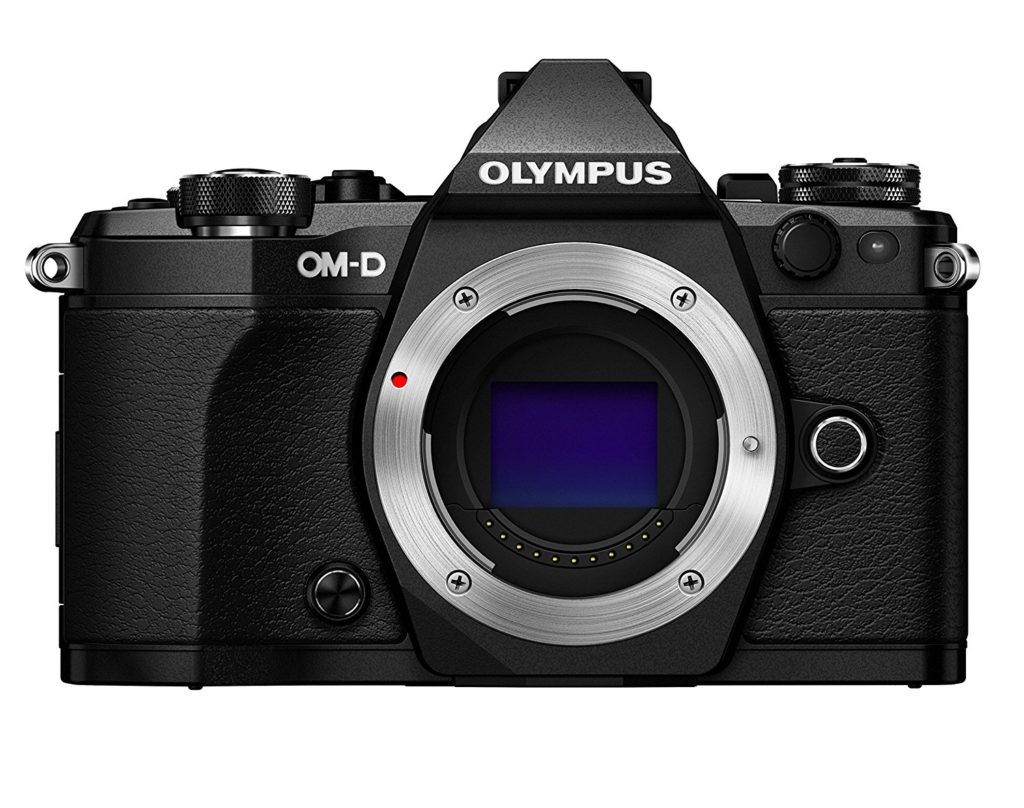 In many ways the OM-D EM-1 Mark II is one of the best auto-focusing cameras in the business. Especially, if you consider the line-up that Olympus has, this is the best that they have. Buffer has been increased and it is a joy to shoot continuous bursts, with or without continuous auto-focusing. For those who love to shoot wildlife and the OM-D EM-1 Mark II is a pocket-sized Hercules in terms of potential number of shots.
Single point auto-focusing is brilliant. The Pro Capture Mode is great too. Too bad that you lose auto-focusing at higher frame rates, but the electronic shutter promises you at least a few great shots among many frames. Video mode, especially for that perennially slow auto-focusing and awful focus hunting gets 2/5 rating from me.
This is a great camera for single point auto-focusing, especially when shooting stills. Not so for continuous auto-focusing in video mode. For still subjects, rely on the focus peaking while focusing manually to give you much better footages.
All in all a fantastic camera for still work as well as manual video work. Not so much for auto-focusing video work.