A gorillapod is a mini tripod by the company Joby (and various clones) that makes carrying around a tripod all day much easier. Here is my review on the Joby Gorillapod Focus version – the sturdiest, heaviest variety of a gorillapod. It retails for around $100, but is well worth it. Here's why.
I don't know what I'd do without my trusty gorillapod. Ever since I got it, I rarely feel like dragging my big actual tripod with me anywhere. You'll be able to spot the gorillapod in numerous behind-the-scenes shots on this blog, if you read the other articles. For a cityscape photographer, it often simply isn't necessary to bring a big tripod – a traditional tripod may actually limit your potential field of view on places like rooftops. There always seem to be a railing where I can mount my gorillapod instead, leaving me wondering why I even own a big tripod in the first place.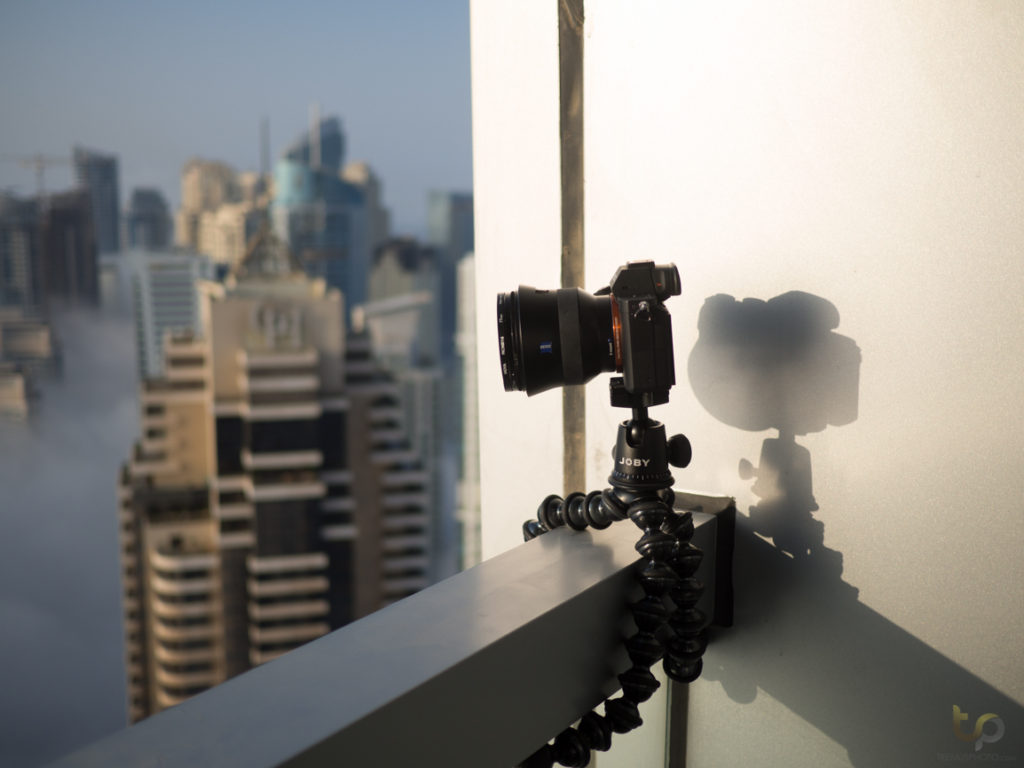 The bendy legs make this tripod be able to stand almost anywhere. It easily mounts on fences and railings. It's surprisingly hard and steady, so you don't have to worry about the fate of your camera either. Disclaimer: this is only true for the Focus model. Other, smaller gorillapods are not as reliable. I used to own a $10 copy of a small gorillapod, which was fine for my omd-em10 with a pancake lens. But once I made the mistake to start using it with my Sony a7rii, it took about 4 shoots until it snapped in half. I was lucky not to lose my camera, as the fall was only about one foot. Somehow, there were no noticeable scratches on the lens either. However, I previously mounted the small gorillapod in places where if it had failed in a similar way, I would have lost my camera to a very long fall, with no chance of survival – or even retrieval. Therefore, I can only recommend the Focus model! You have been warned!
The tripod comes with a ball head, which is basic but very useful. Naturally, there is also a quick release lock that is easy to screw in, even without a coin, thanks to the small metallic flop.
Also, the legs can be bent in a way that makes the gorillapod function as a very rudimentary video rig when shooting some small clips. Two legs against your body/shoulders, one pointing forward for gripping. Genius?
The disadvantages to owning a gorillapod:
About after a year of use, it seems that the legs get too worn out, and the tripod becomes less reliable and sturdy. At this point, you should replace your gorillapod. You don't want to risk your camera because of a $100 tripod.
Also, there is the obvious fact that this tripod is not very tall. If there is only flat ground, you will be forced to put it on the ground. Sometimes, that forces you to be creative, but often it's just limiting. On landscape shoots, I always still bring a normal tripod. But for cities or random walks during nighttime, the gorillapod is very easy to bring with you. It's the perfect travel companion as well, for when you want to keep mobile and light. Honestly, I think any serious photographer would benefit from owning one. You will notice that you end up taking a tripod with you way more often, and after you get home, you won't be exhausted – a welcome change. Well, unless you decide to replace the saved weight with an extra lens or two, which has been known to happen. Either way, it gives you options, which in the end enables you to be better prepared for any situation.