The Panasonic Lumix G DC-GX850 is a micro four-thirds system with a slightly scaled down set of features when compared with the GX85. We have recently reviewed the GX85 you can read more about the features of that camera here. Panasonic likes to keep their camera names as confusing as they can, so this one has several other names as well – GF800 and the GF9 depending on the country you are in.
Anyways, the Lumix G DC-GX850 is a little brother to the GX85 and so there will be some comparisons drawn between the two cameras from time to time in this review.
Here's a quick summary
16 megapixel Live MOS sensor
Micro four-thirds mount
3″ touchscreen with a resolution of 1.04m-dots and 180 ˚ tilting
UHD / 4K video recording at 30/24 fps frame rate
49-point DFD AF system
Wi-Fi built-in the camera body
4K photo mode
ISO range of 25600
10 fps continuous shooting speed with full AF-S
Built-in flash
Sensor
A 16 megapixel Live MOS sensor makes up the heart of the camera. There is no optical low pass filter on the camera. That means the images produced should be sharper than the traditional sensors with an OLPF. Incidentally the GX85 also do not have an OLPF.
Crop factor
Micro four-thirds systems have a crop factor of 2x. Being a micro four-thirds mount lens this camera is compatible with other MFT lenses. That's a huge plus point for a compact style camera.
GX850 Low light (and High ISO) performance
The Lumix G DC-GX850 can shoot at a native ISO range of 200 – 25600. In the extended mode the camera can shoot at 100 to 25600. Usability of the images shot at ISO 12800 and beyond are negligible. The dynamic range of the images tend to suffer as noise creeps in.
Lumix GX850 Auto-focusing
Lumix G DC-GX850 uses the newly designed DFD or Depth from DeFocus technology. This technology uses the lens profile to measure how the subjects at the foreground and the background are out of focus and then adjusts the focusing elements to either move forward or backward to adjust focus.
The AF system is a contrast detection system and consists of 49 points. There are no phase detection points. The touch to focus option is accurate. There is a slight fraction of a second delay after you have pressed your finger on the screen for focus to be acquired. After that focus acquiring process is fast. This is, and I write this from a personal point of view, is not my favorite focusing mechanism when I am shooting videos. I like the smooth but accurate lock, something like Canon's dual pixel CMOS AF does. Jerky focus locks are not conducive for video work.
In real world situations, however, especially when shooting videos, auto-focusing is on the slower side. It can be painfully slow when shooting indoors and in difficult lighting situations. Even in bright daylight conditions, if you are moving around too much, the camera will have a hard time trying to keep up. So, this is definitely not a great vlogging camera in that sense. The same goes when shooting subjects that are fast moving.
Buttons and Layout and Physical Aspects of the Panasonic GX850
The top panel is right heavy. Meaning all the dials are towards the right. There is a main shooting mode dial. This is the one that allows you to choose between the various priority modes, manual and program modes. There is a dedicated 4K Photo button and the power button. The movie recording button is located right below the PASM mode dial at the back of the camera.
The GX850 is actually designed to work as a selfie camera and there are some important features that are incorporated keeping that in mind functionality. The tilting flipping screen for example, flips all the way facing the front of the camera. It is very handy when you are recording yourself.
When flipped back to its original positon the LCD touchscreen dominates the back of the camera. There are also a four-way selector wheel for the white balance, exposure compensation and couple other functions. The top panel also has a pop-up flash. The button to activate it is located towards the left of the movie recording button.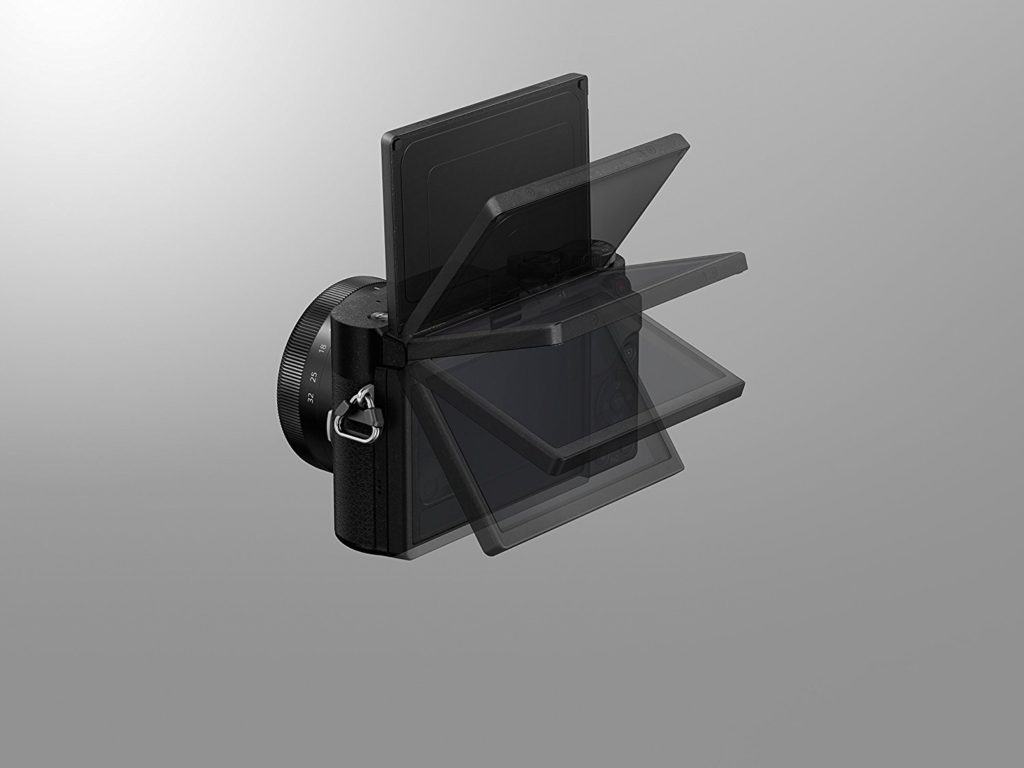 LCD Monitor and Viewfinder
There are no electronic viewfinders on the compact design of the Lumix G DC-GX850. However, there is a 3″ touchscreen with a resolution of 1.04m-dots. The screen does flip which gives the Lumix G DC-GX850 a far greater degree of flexibility to shoot compared to other cameras.
The only thing that we don't like is that the brightness of the touchscreen which is not that great. In bright outdoor conditions you will not be able to see what you are pointing at or review what you have just shot.
Image Stabilization
The Lumix G DC-GX850 has no in body image stabilization system. But if the compatible lens has image stabilization it is supported by the camera.
Built-in Wi-Fi
The GX850 comes with built-in Wi-Fi, which is handy for transferring video and still files. But, there is no NFC. So pairing this camera with a Bluetooth handset or other Bluetooth enabled devices will be difficult.
Flash
The built-in flash on the Lumix G DC-GX850 can tilt up or down depending on how you want the light to impact your images. It comes in handy when you want to bounce the flash against a white ceiling for specific effects. Nice touch.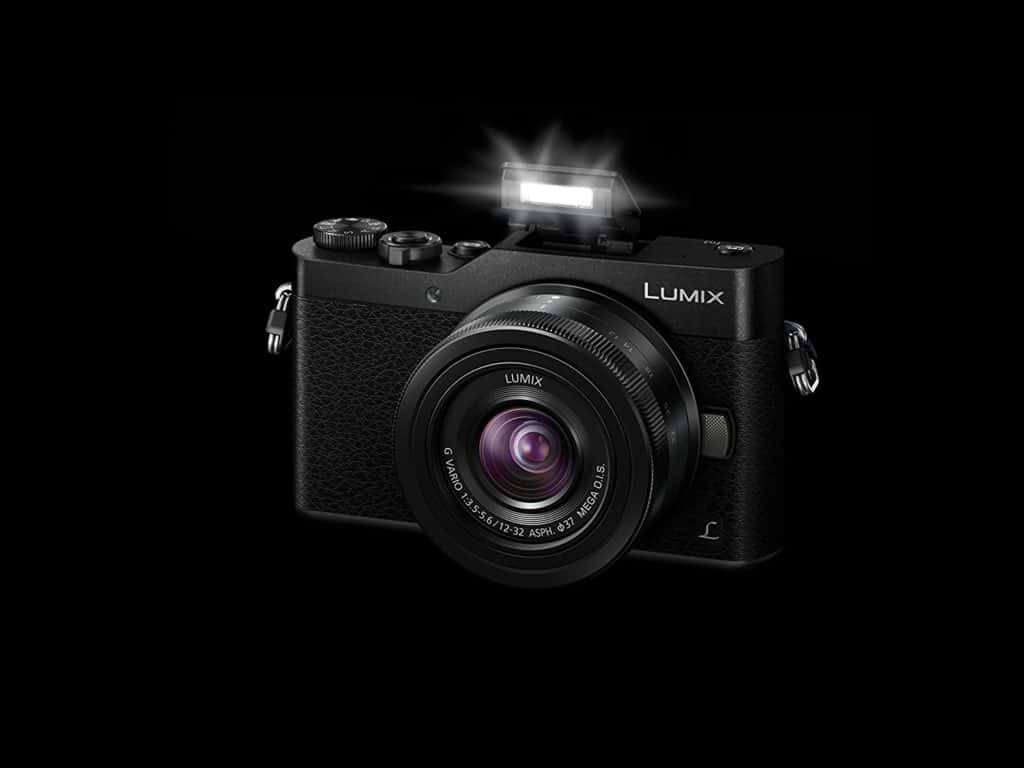 Continuous Shooting Speed
Burst rate signifies how many frames you can shoot continuously per second. The better cameras can shoot at a higher frame rate and with continuous auto-focusing. The burst rate on the Lumix G DC-GX850 is 6 fps with auto-focus. At that speed, the camera can shoot a maximum of 15 RAW frames or 100 JPEG frames before the buffer overruns.
Shutter
The shutter mechanism of the Lumix G DC-GX850 constitutes an electronic and a mechanical system. The mechanical shutter can fire at 60 – 1/16000 second and the electronic can fire between 1/25 to 1/16000 seconds (in movie mode).
4K Photo Mode
The 4K Photo mode uses the 4K / UHD resolution to capture a higher continuous shooting speed compared to other cameras. This gives a higher continuous frame rate for capturing moments when the subject is moving fast.
Video Shooting
The Lumix G DC-GX850 does have 4K / UHD video recording at a frame rate of 30 / 24p. The quality of the footages, their color rendition are excellent. The maximum clip length possible on the GX850 is up to 20 mins. There is a built-in stereo mic which means you will be able to record acceptable quality audio. But the fact that this isn't a noise cancelling mic means you will get plenty of wind noise in your clips.
One thing that I did not find on the GX850 was an external audio input. That means you are stuck with the built-in mic for the most part. For professional video work you would need an external sound recording set-up and then sync the sound and video clip together later on.
Image Quality
The Lumix G DC-GX850 meters scenes slightly on the lower side and often end up with a slightly overexposed image to compensate for that. To counter this, and this is again subjective, would be to use the exposure compensation button. If you are shooting manually you can always use the shutter speed to dial down the exposure.
Battery
The camera comes with a rechargeable lithium ion battery of 680 mAh. Battery life of the GX850 is rated to 210 shots on a full charge. This, however, depends on a number of factors. If you are shooting 4K Photos e.g., you would be able to squeeze in a lot more shots than that.
Build Quality
This is a small, compact design, the GX850. It is small enough to fit inside your palm and that is exactly what Panasonic had in mind when they designed this camera. They wanted it to woo customers who travel and need a dependable camera to shoot images and videos with when they are travelling. The interchangeable lens mount gives them the additional advantage of shooting with different lenses for achieving different perspectives.
Conclusion – Is the GX850 worth the money?
Despite the inexpensive price point and the additional features that this camera has, there are some areas that are gray. The memory option for example is one. You only have the option to plug in a MicroSD card. That evidently means you will have to invest in some MicroSD cards because your existing full sized SD cards will no longer be compatible. Plus, as there is no external mic input jack you would have to use an external sound recording rig too. For a camera that shoots 4K that is a shame. When it comes to auto-focusing in video mode the camera isn't quite the quickest. But it does the job. We love the 4K resolution of the videos, the still capabilities as well as the 4K Photo mode. All in all a nice camera to shoot images with especially when we consider the price point.
This is also an excellent camera for those that are upgrading from a smartphone or just getting into photography. It covers all the basic features in an extremely small and light package without breaking the bank either. Also great as a gift! You can order it on Amazon here.