One of the most common questions I receive on Instagram DMs is – "how do you get access to these rooftops?"
In this post, I intend to give away my secrets.
I am still quite new to rooftop photography myself. I started doing it because Dubai is a city that looks amazing from a high floor, but on the ground, the views are often ruined by sand and construction. Hong Kong is another example that looks similarly amazing from high up, but isn't as impressive on ground level. But wherever you're located, these methods should work anywhere.
Dongling ones' feet down skyscrapers and climbing lightning rods while running away from security guards might be the cool hip thing to do, but I'm not here to teach anyone that type of photography. I'm too much of a pussy for that. Rather, I was more inspired by guys like Daniel Cheong – I wanted to get on roofs to get a better view, preferably without getting arrested or dropping to my death. I'm not saying that those more extreme types of rooftop shots aren't cool as hell, but please use your judgement and stay safe!
Now that that's out of the way – how does one get access? Typically, I'll use one of the following three methods, all legal and won't get you in trouble.
1. Do a Photoshoot In Exchange For Advertisement Or Image Rights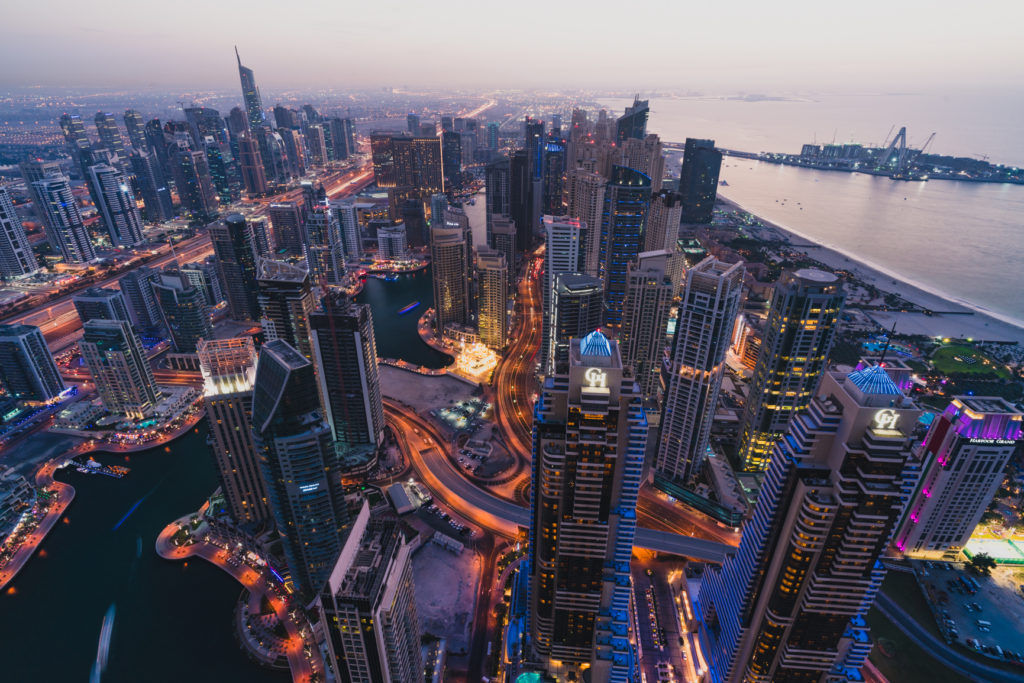 One simple way I have been able to get access to more "exclusive" rooftops has been by offering to promote the building on my social media channels in exchange for nothing but access. This strategy works best when contacting commercial property such as hotels or big buildings that have a marketing conscious management team. The more followers you have on your platforms, the better.
If you do not have a significant social media presence, there's another thing you can offer – the rights to the images you shoot on their premises. This way, the hotel gets a free photoshoot in exchange for the trouble they have to go through for arranging your shoot. Make sure to have a high quality portfolio that you can show them. It's a very good deal for them, but sometimes the only legal way to gain access. You'll get additions to your portfolio, they'll get the shots and some advertisement. A typical win-win scenario.
You don't have to be a real professional to do this (I'm not). Simply present yourself in a professional manner.
The key in employing this strategy is being able to contact the right person in charge. The security guard or doorman will not give a crap about your Instagram page. Instead, get in touch with the hotel management, social media team or marketing department.
Due to an influx of crazy russians dongling their feet (and women) from ledges, security has tightened and there is often some paperwork and coordination involved in arranging a shoot. That means it will take effort on the part of the management of the building, which means you have to have something of value to offer them to make it worthwhile.
2. Have Friends In The Right Places
Many residential high rises have rooftop pool areas or spas that are accessible to the people living there. Balconies of the apartments often have great views as well. Many of my "roof" shoots were actually done from a high floor balcony. So ask all your friends and you might find some unique new spots.
I often stalk other photographer's profiles on Instagram in order to reverse engineer the locations from which they are shooting from. Most like to be secretive, but some will not care and put the locations right in the descriptions.
Tip: On some occasions, the view from the pool deck has been blocked by a tall fence. If you're not 8 feet tall like Yao Ming, one handy trick is to put your camera on a tall tripod, set a timer, and then peek over the wall by holding the tripod as high over the ledge as you can. This method may take some trial and error with camera settings, but it has got me some unique photos in the past. In daytime, use a high F number and manually focus to close to infinity. At night, go for a wide aperture shot that is prefocused, but be careful not to drop the shutter speed too low. Utilize your flip screen. Preview your photos before leaving to check for missed focus or camera shake.
Sometimes, you could simply walk into a building and act like you live there. I would not recommend this, since you will often get stopped, which wastes your time or potentially even gets you in trouble. But if you live in a place where you think you could get away with it, it's a last-ditch option. Please do not do anything illegal or break any locks. Remember, you live there.
3. Rooftop Restaurants And Bars!
Many hotels have great rooftop bars and restaurants that have amazing views, publicly accessible to anyone with a few dollars, or dirhams as we use here in the UAE. For the price of a drink, you can enjoy some great views at places like The Observatory in Dubai Marina or Level 43 in DIFC, to give some of my local examples. The Rooftop Bar in Jumeirah Beach Hotel has great views of Burj Al Arab. There are less known hotel bars everywhere, so keep exploring. Not just in Dubai, but in all major cities.
Bonus: if you don't want to pay, there is always the possibility of contacting the restaurant and offering them free promotion or photos in exchange for access, or even a free meal.
The above has been how I've shot all of my rooftop images so far. How do you personally do it? Have any questions? Comment below.