After giving away some of my older presets for free, I've decided to create a brand new premium 'Urban Nights' preset pack. This is a preset pack that I personally use to find a starting point for my night photography edits.
This pack contains 7 different color grades, 3 different effects, and 4 different one-click editing presets. They can be combined to quickly create a wide combination of different looks – for urban nighttime street photography…
Below is one example – a 2 click edit, using the Blue Night preset, then tweaked by applying the Soft Glow effect. Both of course included in the pack.
---
What this Preset Pack is
4 different complete presets
7 different color grading adjustments
3 different effects
The color presets and effects can be used to alter the look of the total presets, or can even be combined into their own custom look – different scenes require different edits
This preset pack will help you achieve a night photography color grade using methods I use daily to edit and color grade my images
Mobile compatible – This pack contains desktop presets for Adobe Lightroom as well as DNG files with presets applied that can be imported on the Lightroom Mobile app as well as Macbooks.
What this Preset Pack isn't…
This is NOT a complete 1-click solution for all images – it is recommended you still have a basic understanding of Lightroom, such as adjusting exposure and color temperature to fine tune the image
This preset pack is not suitable for all types of images – if you shot your photos during the day, this preset pack will not work
This preset pack is not A Magic Pill – this preset pack is designed to give you some editing ideas as well as insight into my methods, but it won't make you a master of night photography instantly. There is no substitute for experience.
This isn't An astrophotography preset pack – This preset pack is designed for urban street photography settings. Preferably RAW image files.
That said…
I have been tweaking these presets for a few weeks now in order to make them optimal for most urban night time photography situations. Biggest points of manual adjustments that will need to be done are simple exposure and color temperature adjustments – some scenes come out looking underexposed or overly cold when using these, but that can be quickly fixed by adjusting accordingly.
Below I will show a few more example edits done using only the preset options available on this pack:
Example Edits using my Urban Night Lightroom Preset Pack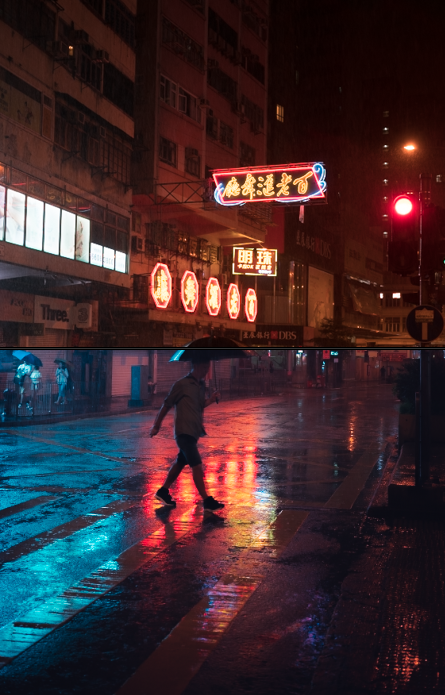 Top of image is showing the Original Raw, the bottom is the Signature "Urban Night" preset applied.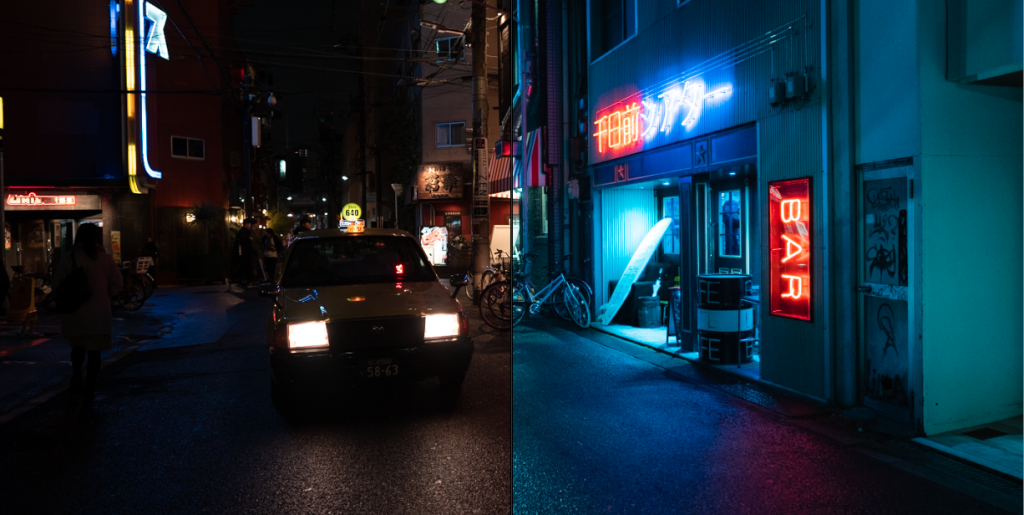 The left side is original RAW – the right side is with Night Color 2 color grade applied.
If you wish to purchase the Urban Night preset pack, it is now available for $19.99. Click the below button to be redirected onto the Credit Card payment gateway:
(After payment, you will be redirected to the download page – don't close the browser)