Need new glass but don't want to spend all that hard earned cash? Here are some of the cheaper options for the Sony E-mount.
If you'd prefer to watch instead of reading, I also made a quick video on the same topic:
Below is the text version as well as the links to the gear.
1. Best Budget Generalist – Sony FE 50mm f/1.8
A fast autofocusing prime for $250 on Amazon / $248 on Adorama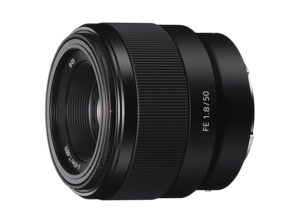 Everyone loves a 50mm lens. It is the sort of lens that you could shoot all day long and never get tired of. Plus, the fast wide aperture of f/1.8 is a boon. It can capture a lot of light, even in the most trying of circumstances without any issues at all. The angle of view of the lens is 47 ˚. The Sony FE 50mm f/1.8 has been designed for the full-frame Sony mirrorless cameras. It is compatible with APS-C system cameras as well. On these systems the lens offers an effective focal length of 1.5x. That's the equivalent of a 75mm lens mounted on a 35mm lens. This auto-focusing lens has a total of 6 elements arranged in 5 groups. A really simple design. It includes 1 aspherical element that ensures that the lens is able to counter aberrations and distortions. The lens aperture diaphragm is composed of a 7-blade aperture diaphragm. On top of that the lens features what is known as a Double – Gauss Optical design. This design is instrumental in providing a very sharp image quality as well as help reduce the curvature effect that you get to see on some wide angle lenses. Auto-focusing on the lens is powered by a DC actuator motor. You get decent quality auto-focusing speed and performance. Externally, the lens has a solid build quality. A metal made bayonet mount gives some degree of assurance.
2. Best Budget 35mm – Samyang AF 35mm f/2.8 FE $239.00
This lens also has Autofocus, which again is rare in cheap lenses. It's a solid 35 from Samyang, which is a reputable third party manufacturer of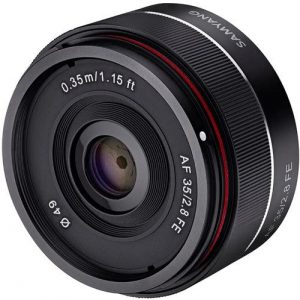 solid dependaple lenses. f2.8 is not bad. It's definitely the best cheap 35mm for sony e mount. Image quality is more than acceptable for the price. And at only 239 dollars it's one of the most afforable options out there.
35mm is an excellent focal lenght for a mixture of different types of photography, it is the wider cousin of a generalist lens like a 50mm. At f2.8, you get less bokeh, but you also get a wider lens that is somewhat better suited for stuff like landscapes, while still being perfectly usable for portraits and general photography. It's also the favorite focal length of many street photographers out there.
3. Best Budget Ultrawide -TTArtisan 11mm F2.8 – $215.00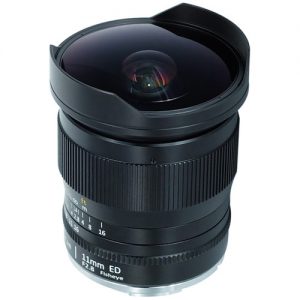 If you want a wide angle, this lens is one of the cheapest options. It's a manual focus only lens but at 11mm, that hardly matters, it will be really easy to manually focus.
At 11mm, it is basically a fisheye. This means that you can basically see behind you, the field of view is so large. There's gonna be some distortion
and this lens may be too wide for regular shots, but it's a great option for certain types of landscapes and photographing tight spaces.
Distortion can always be fixed in post. Full disclosure, I haven't tested this one personally, but in my research I couldn't find anything negative in
terms of image quality you can expect.
4. Best Budget Wide Angle – Tamron 24mm f/2.8 – $249.00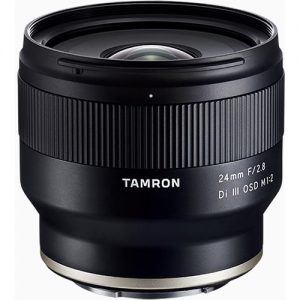 For most people, this is probably the budget wide angle lens I'd pick.
24mm isn't as wide as 11mm, but 24 is more suitable for a lot of landscape type of photography. This lens even has autofocus, although don't expect it to be
miraculously fast. A solid option from Tamron.
5. Best Budget Portrait Lens – Samyang 85mm f/1.4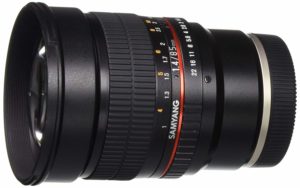 If you are ok with manual focusing lenses and are looking for something optically very sharp and at a reasonable budget then the Samyang 85mm f/1.4 is an excellent choice.
The lens is compatible with both the full-frame and the APS-C formats and therefore gives a tighter view of a scene. It's an all-out portrait lens for the full-frame camera. When shooting on an APS-C camera the lens is good enough for shooting wildlife, birding etc. The biggest advantage of the lens is its fast f/1.4 aperture. Plus, the lens has an 8-blade rounded aperture diaphragm as well. This is just perfect for those beautiful creamy bokeh. However, you might find it a tag difficult to use for the fact that this is a manual focusing and manual exposure lens. The other features of the lens includes an internal focusing mechanism. This ensures that the lens never expands or contracts when you focus it. Internal construction of the lens includes 1 aspherical element. This prevents chromatic aberrations and distortions when shooting wide open. Additionally, a UMC coating ensures that the lens is able to suppress flares and ghosting. This explicitly provides better color contrast and richer tones.
6. – Sony FE 85mm f/1.8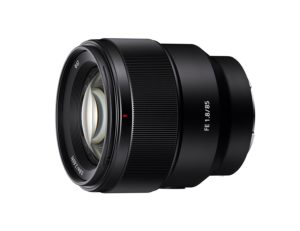 If you need anything better than the Samyang 85mm f/1.4 manual focusing lens, then it has to be the Sony FE 85mm f/1.8 auto-focusing lens. It does come at twice the price of the Samyang though.
This lens is designed for the full-frame Sony E mount camera systems. It is compatible with Sony's APS-C system sensors as well. The effective focal length on APS-C cameras is the equivalent of a 127.5mm lens mounted on a 35mm camera. In that respect it has the effective focal length coverage of a portrait lens. The critical advantage that this lens offers is the auto-focusing motor. I am a big fan of auto-focusing. If you have a sharp eye, you would probably love shooting with a manual focusing lens like the Samyang that we just finished reading about. Auto-focusing on this lens is powered by a Double linear auto-focusing motor. And speaking of manual focusing, there is a MF/AF button for easy switching from auto to manual and vice versa when needed. However, with manual focusing, the margin of error is always minimal. The large f/1.8 aperture comes in handy when shooting in low light situations. Plus, it is also capable of achieving what is commonly referred to in photography as subject separation. The rounded 9-blade aperture helps in achieving that. The internal construction of the lens includes 9 elements including 1 extra-low dispersion element. This element suppresses chromatic aberrations and distortions.
7. – Sony Sonnar T* FE 35mm f/2.8 ZA Lens
One of my favorite general purpose lenses, it's sharp, light and cheap.
The 35mm and the 50mm are two lenses that dominate the standard prime segment. The photography world is split between these two fantastic lenses. Sony's Sonnar T* FE 35mm f/2.8 ZA lens comes with a large wide aperture of f/2.8. Though not as fast as some of the other prime lenses that we have discussed in this review, this is still an excellent design. The lens aperture diaphragm is composed of 7 rounded blade circular diaphragm. The internal construction of the lens constitutes 3 double sided aspherical elements. These practically suppresses all of the chromatic aberrations and distortions that you would normally see on fast wide primes. Along with that the lens also comes with a Zeiss T* Anti-reflective coating. This coating comes in handy when shooting in extremely bright conditions. It suppresses flares and ghosting and produces a much richer tone even when shooting in bright conditions. Auto-focusing on the lens is powered by a linear auto-focusing motor. The lens barrel focuses internally. Meaning, the barrel length remains unchanged throughout the focusing range. Externally, the lens features a weather resistant construction.
8. – Sony FE 28–70mm f/3.5 – 5.6 OSS Lens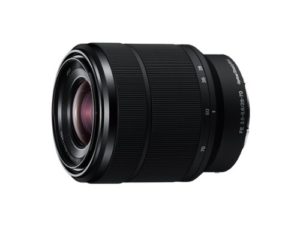 Designed for the Sony full-frame sensor powered cameras, the Sony FE 28 – 70mm is a wide zoom lens. The lens is compatible with APS-C sensor powered camera systems as well. When mounted on a crop sensor camera, the lens' focal length becomes the equivalent of a 42 – 105mm mounted on a 35mm camera. The maximum aperture of the lens is f/3.5 when fully zoomed out and stops down to f/5.6 when zoomed in at its tele end. So, the widest aperture is not available across the focal length range. The internal construction of the lens includes 1 ED element and a total of 3 aspherical elements. These elements are responsible for suppressing chromatic aberrations as well as distortions. The lens aperture diaphragm is composed of 7 rounded aperture blades. Auto-focusing on the lens is powered by a linear autofocusing motor. The linear auto-focusing mechanism is powerful and Auto-focusing mechanism on the lens is internal. That means the barrel length remains the same over the focusing range. The biggest advantage of this lens, compared to the other lenses that we have discussed above, is the presence of Optical Steady Shot image stabilization. Externally, the lens has a rugged construction. It features decent weather sealing properties.
9. – Rokinon 35mm f/2.8 FE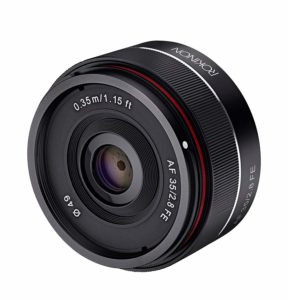 The 35mm is a personal favorite. Or someone who started off shooting on a crop camera, the 35mm gave roughly the equivalent focal length to what a 50mm lens would when mounted on a 35mm camera. Incidentally, the Rokinon AF 35mm f/2.8 is compatible with APS-C sensor powered Sony cameras as well. The focal length becomes the equivalent of a 52.5mm lens. The maximum aperture of the lens is f/2.8. F/2.8 is fast but not as fast as you would like to have. Internal construction of the lens constitutes 2 aspherical elements and 1 HR element. These takes care of aberrations and distortions and produces extremely sharp and extremely clear imagery. On top of that the lens also features an Ultra Multi-coating that produces better suppression against flares and ghosting. The lens aperture diaphragm is made up of 7 blades. The Rokinon AF 35mm has a decent AF motor. This works in tandem with Sony's internal camera based AF systems. There is a manual focusing override on the lens. This option comes in handy in situations where the lens is struggling to find focus. You could manually take control over the focusing movement and get a better focusing result than the AF motor.
Buy used in order to save even more!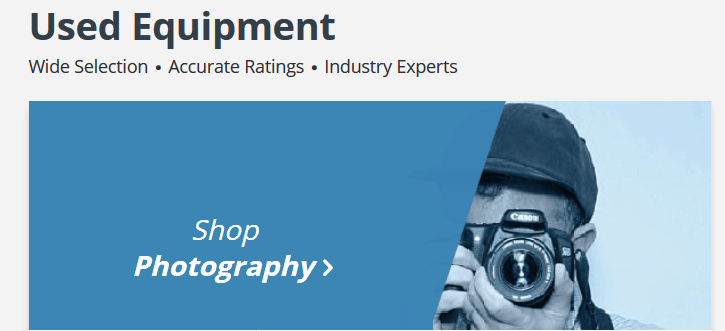 Sometimes it's a good idea to look into the used gear marketplace for even better savings. For example, on Adorama.com there is a used gear section that you can browse here. Alternatively, you can check you local camera stores or buy and sell apps for some finds. I have bought some lenses on the Carousell app for example while staying in Singapore. Some of these purchases have been great, other times the products were a bit worn but nothing catastrophic yet – just remember to scout the seller in advance and check for any potential bad reviews.
Bonus: Adapted vintage lenses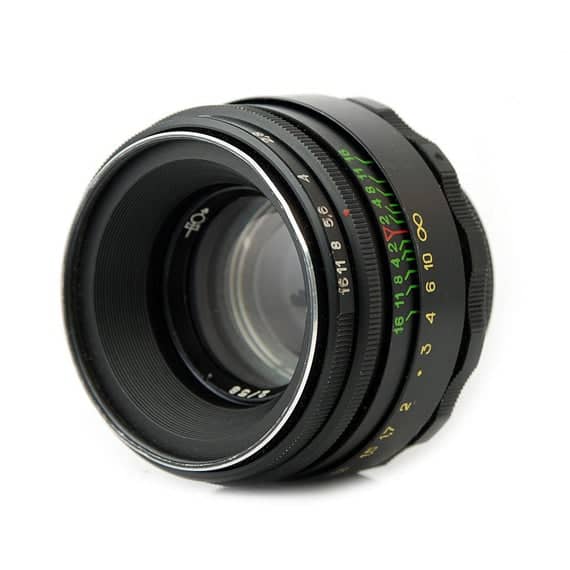 Instead of going for new lenses, there is always the option of going for old film camera lenses. They mount on your camera when coupled with an adaptor. You won't be able to use things such as autofocus or the aperture dial, but the focus peaking of Sony is good enough that this shouldn't be a huge problem, and old film lenses have a separate aperture ring attached to the lens directly. As far as which lenses to choose, the list is so huge that I shall leave that article for another time. I will mention one popular option – the Helios 44-2, which is an old soviet lens that can be bought for less than $50 off of sites like ebay and sometimes even Amazon. In order to use it on your Sony, you will need an adapter like this one. But in total, the price only equals less than $100 – in my opinion easily worth the money just for the fun alone.
Vintage lenses are usually not optically perfect, but they have characteristics that give them certain charm. The aforementioned Helios 44-2 for example is famous for it's swirly bokeh. It is not sharp, but it is quite unique and fun. But for peak performance or sharpness, better to go for one of the lenses listed above!
If you enjoyed this article, you might also enjoy my blog.
To see which gear I'm currently using personally to shoot night time street photography, read this.
And finally, you can keep in touch via Instagram here. Feel free to send me a DM for any reason!