Vlogging or Video Logging/blogging requires a special type of camera. These cameras ideally should have a flipping screen which can flip all the way to face the subject being photographed / recorded. Additionally, vloggers require the ability to shoot remotely. They need the ability to pair their smartphone with their camera and be able to do things such as focusing, exposure adjustment and making recordings without having to touch the camera every other second. There are additional requirements such the ability to mount an external mic and optionally, the ability to output clean uncompressed recording to an external device. They also need manual focusing assist and most importantly the ability to have a larger color information and dynamic range in the RAW footages. Let's look at a few options and in the process find out the best vlogging camera out there.
Sony Alpha A7s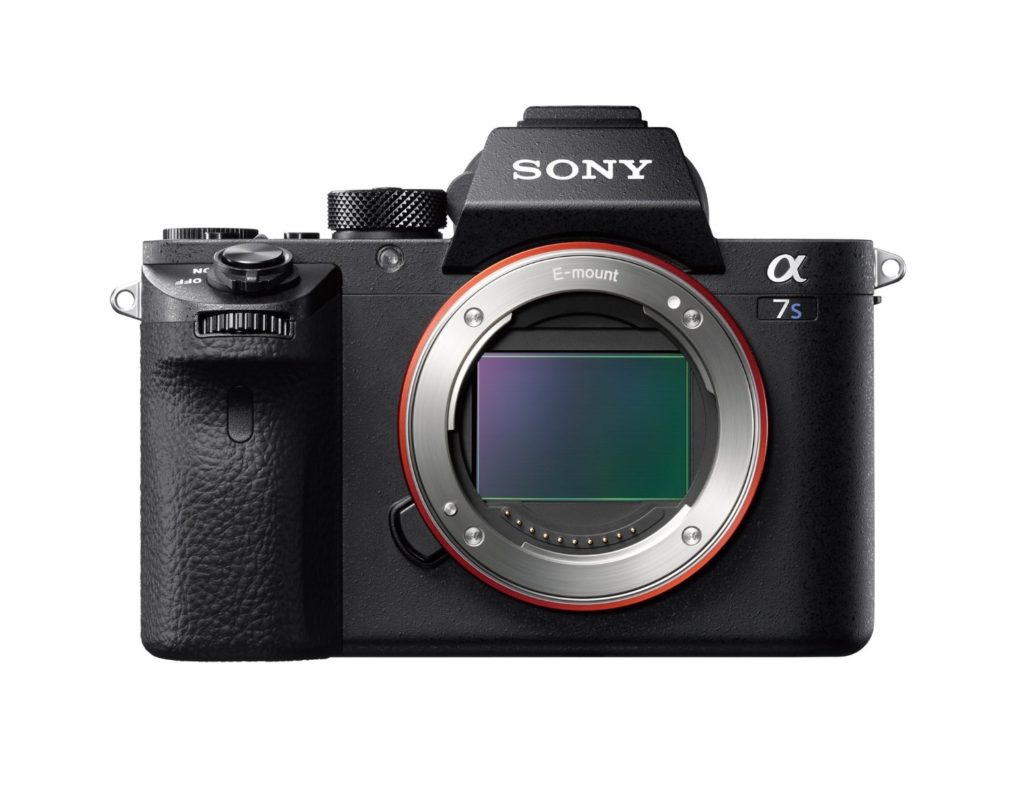 The Sony alpha A7S II is widely considered as the master of low light photography. But it has much wider usage beyond its ability to shoot great stills. It is a great video camera as well. The 12.2 megapixel sensor powered camera can record uncompressed 4:2:2 full HD (1080p) footage internals or transfer 4K output to an external recorder.
Full pixel readout ensures there is no pixel binning. The built-in 720p HD mode captures 120 frames (progressive) that ensures super slow motion playback option.
The a7S comes with a host of videography shooting features which allow you to produce better quality videos. It has low contrast S-Log2 tone curve and S-Log3 Gamma that ensures videos that are higher in dynamic range than standard video footages. 14 stops to be precise. Plus, S-Gamut3.Cine profile is possible to be used to produce results that would mimic the quality of scanned negative film. Additionally, there is the option to include time code in the camera.
The a7S comes with the option to input an external mic. The external mic allows you to record very high quality external sound and not depend on the built-in mic of the camera. Additionally, there is an external headphone socket for the videographer to monitor the audio levels.
The Sony alpha a7S is one of those first full-frame cameras (mirrorless) that have two very serious features that are borrowed directly from professional video cameras – focus peaking when manually shooting to detect the areas that are sharp in focus as well as zebra highlights.
An intelligent feature of the a7S is the ability to read out the entire sensor and then downscale the amount of information that it collects into a more easily workable and surprisingly clean footage. This is unlike some of the traditional video recording option on other DSLRs where the camera only uses selected strips of the sensor. This produces lower quality (but workable) videos.
Finally, the tilting screen. This is probably one thing that we are not too happy about. It does not have the option to face the subject of the video. So, keeping yourself within the frame will be a bit of a problem when shooting for vlog. Having said that, the a7S II comes with NFC. This technology ensures that you can pair your camera with a smartphone, compose, focus and start recording without having to touch the camera at all times.
Panasonic GH5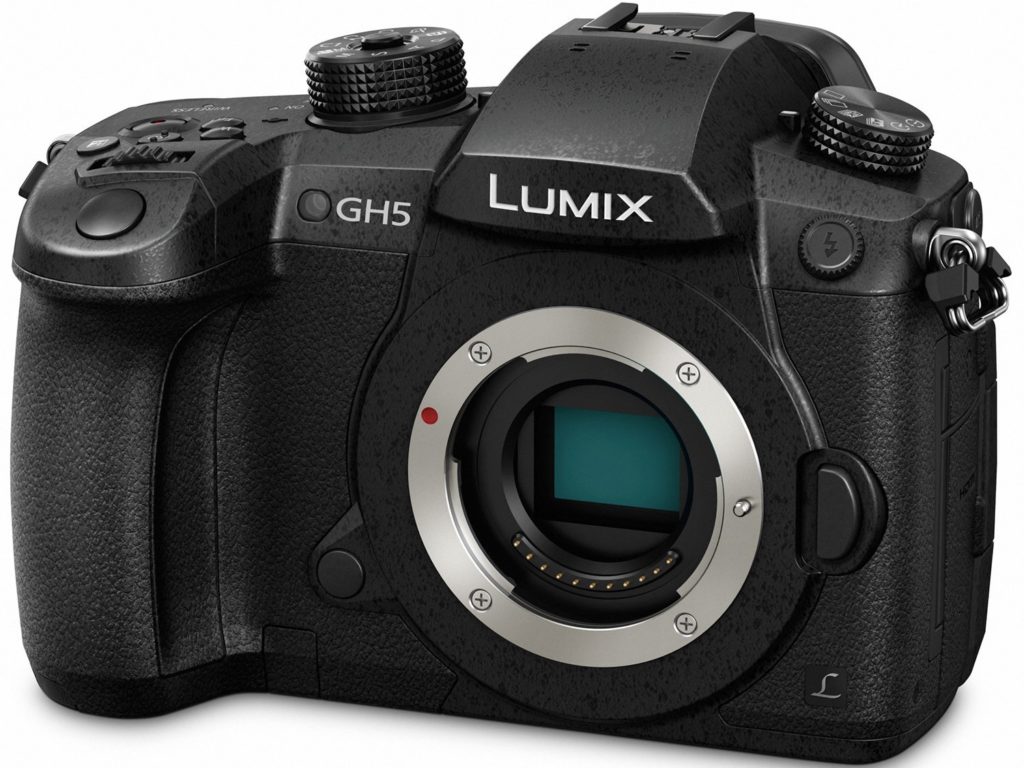 The Panasonic GH5 was announced in 2016. This is a 20.3 megapixel micro four-thirds camera powered by the Venus Engine image processor. The GH5 is capable of shooting internal 4K videos utilizing the whole of the sensor (therefore no cropping). It is capable of shooting 4:2:2 10 bit DCI 4K at 24/30p.
That's a lot of color information which you can then later use during post-processing. Though most computer / TV screens don't have the ability to show that many colors, it will come in handy for people shooting green screen and those who need a higher amount of color detail. Not every vlogger would appreciate the 10-bit 4:2:2 capability though.
Availability of a HDMI port on the camera allows you to transfer the uncompressed footages directly to an external recorder if you want it that way. There is a 3.5mm standard external jack that allows you to plug in an external mic for better quality sound.
When shooting in full HD mode you can shoot at a frame rate of 180 fps. That way you can create those beautiful slow motion effects by playing back in normal 24p. The GH5 come with a built-in 5-axis sensor stabilization Dual I.S. 2 technology that comes in handy when shooting hand-held. This technology kicks in only when shooting with certain lenses. The technology is rated at up to 5 stops of image stabilization.
The GH5 also features the DFD technology. Also known as Depth from Defocus this technology will check the bokeh data of each lens (this it does using the lens profile), then automatically adjusts how much the lens needs to move in front or back to adjust focus. Panasonic states that the new auto-focusing technology is faster than what we saw with the GH4. It can lock focus in 0.05 seconds.
There is an optional v-log L upgrade available to the system which will ensure that the camera be a better shooter than what it is. Plus, you also have the option to use an XLR microphone adapter which allows you to use XLR inputs and physical controls using the built-in hot-shoe of the camera.
Finally, the thing that makes this one of the best vlogging cameras – a 3.2″ 1.62m-dots free-angle touchscreen. Free-angle, or vari-angle as they are mostly referred to are screens that can flip and turn in almost any direction. This allows you to point the screen at yourself when you are recording.
Sony Alpha a7R II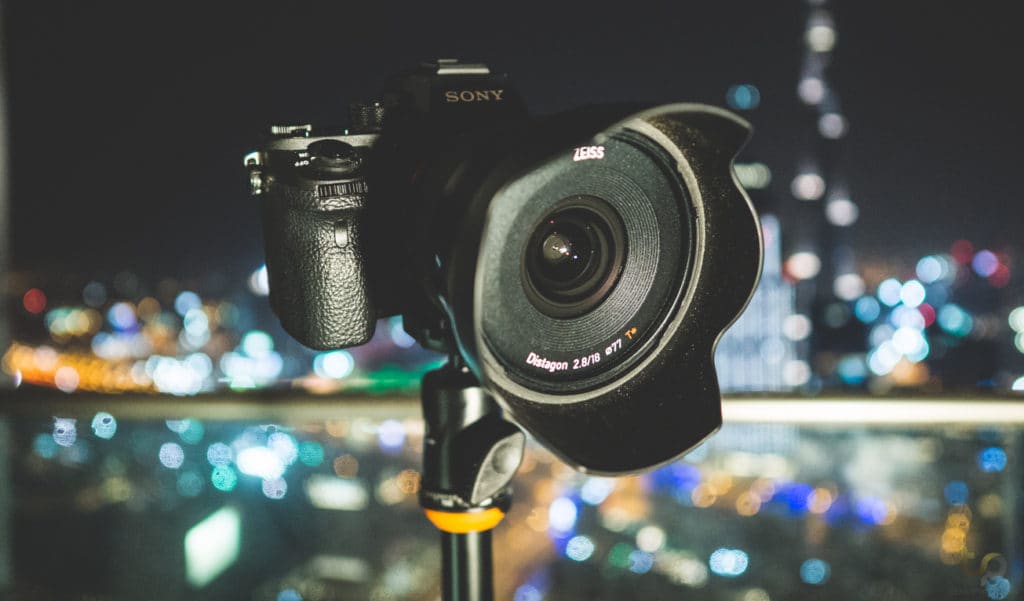 The Sony Alpha a7R II is the cousin of the a7S and the a7S II that we just read about. Its greatest USP is the 42 megapixel full-frame EXMOR R BSI CMOS sensor. Plus, the sensor does not come with an optical low pass filter. That promises a much sharper image and greater amount of detail.
When this camera was launched it was the largest backlit (BSI) full-frame CMOS sensor in the world. Traditionally, BSI sensors are more commonly seen on smaller cameras. The use of this technology on larger sensors ensure that even at such a high resolution, the camera produces surprisingly clean images. It also allows shooting at a much higher native ISO than traditional cameras. Another fantastic feature of the camera is the 5-axis image stabilization system that comes with a 4.5-stops rating.
But the feature that we are most interested about is the internal 4K / UHD capability. It shoots 4K in 24, 25 and 30 fps. If you shoot full HD (1080p), the frame rate is 24, 25, 30, 50 and 60 fps. So, super slow motion is not possible. But you can slow down action by 2.5x by recording in 60p and then playing back in cinematic 24p.
The camera uses a part of the sensor width and length when recording 4K. It is also known as Super 35 crop (in practicality that is closer to an APS-C crop). Because of the larger resolution and the Super-35 crop, the a7R II is actually oversampling its 4K footages. This is a good thing in a way, because, now things like moiré and false colors will not appear in the footage. The a7R II comes with S-Log2 picture profile for greater contrast and dynamic range capability when you sit down to grade the footages later on.
Additionally, the a7R II comes with XAVC S format recording option (this is a Sony standard), an option to plug in an external stereo mic and a headphone jack output so that you can monitor the audio levels while recording. Add to that the presence of a handful of manual shooting features. These include focus peaking, which gives you a better control over what you are focusing at and Zebra stripes, which gives you better control over your highlights. Time code is also available, just in case you are shooting in a multi-camera environment and you need the option to be able to shoot and then merge footages from several cameras seamlessly. Time coding helps you in achieving that. The Sony alpha a7R II is one of the best vlogging camera systems around.
Though this is not a requirement for shooting videos, but the build quality of the a7R II is excellent. It is crafted out of magnesium alloy material which gives it great strength. Additionally, the camera is rated to be weather resistant. So, you should be able to shoot in pretty much most weather conditions.
The rear LCD screen of the camera is tilting and not flipping. Personally, I love the flipping screen for vlogging purposes. Having said that the Sony Alpha a7R II comes with NFC connectivity. This allows you to pair a smartphone or a tablet and use that device to remote control the camera. Kind of a way around but still better than nothing.
Sony Alpha a6500 Mirrorless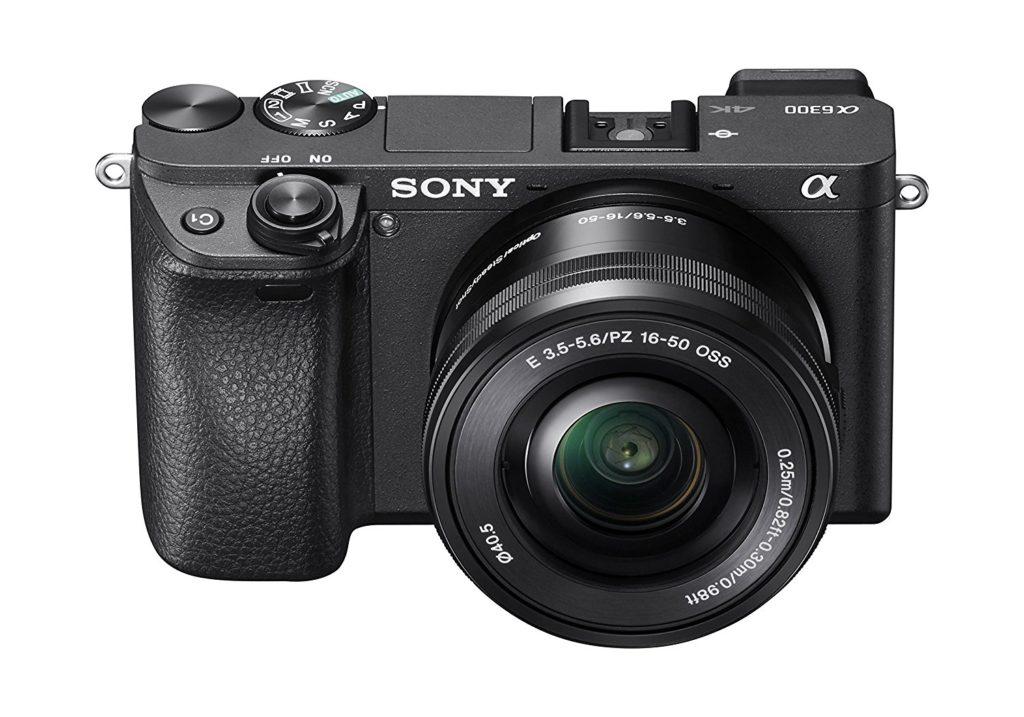 The Sony Alpha a6500 is a 24.2 megapixel APS-C EXMOR CMOS sensor powered mirrorless interchangeable lens camera. Image processing is powered by the BIONZ X image processor. The a6500 is the upgraded model of the a6300 and look wise the two cameras are indistinguishable. But the new camera is a major improvement over the old one in many ways. We are, however, concerned, only with its video features.
This APS-C mirrorless camera is capable of shooting internal 4K / UHD videos. It uses Sony's XAVC S format for recording at 100 mbps and at a frame rate of 30p (as well as 24p). When shooting full HD videos (1920 x 1080p) you would be able to shoot at a frame rate of 60, 30, 24 and 120p. The Sony a6500 does use the full resolution of the sensor when shooting videos. So, there is no crop. Except when you are shooting 120 and 100p full HD videos or shooting 30p in 4K. In these shooting situations only a crop of the sensor is used to shoot videos (1.14x).
There are some advantages and disadvantages of this cropping. A – You won't have issues with the rolling shutter because the cropped area of the sensor is faster to read out compared to the whole sensor. B – You will have a larger depth of field when shooting. On the flip side – you will have to opt for a wider lens to get the maximum field of view possible with the crop view.
You can use S-Gamut3.Cine/ S-Log-3 as well as S-Gamut3/S-Log3 profiles to capture a higher dynamic range. S-Log3 gamma produces a higher dynamic range equal to 14 stops. S-Gamut3.Cine produces similar quality as scanned negative film. In addition to these the S-Log2 setting is also used.
The camera uses what Sony states is the 4D focusing system. It employs a total of 425 phase detection auto-focusing points. This same phase detection auto-focusing mechanism is being used when shooting videos. AF performance is particularly good when shooting with an OEM lens.
The fact that the rear LCD screen allows touch to focus and the large number of AF points mean video AF performance is quite good. When shooting videos you should opt for the Flexible Spot area mode. Wide Area or the Zone Mode or the Expanded Flexible spot mode are not the best options when shooting videos.
There are 3 distinct focus racking features on the a6500. These are Fast, Normal and Slow. Though it does sound like the Fast option would be the best, when shooting videos, it can be a little too quick for convenience. As a matter of fact sometimes the Fast option produces results that are out of focus. The other options are relatively more conducive for smooth focus racking movements, especially the third one.
There are a couple of features to assist manual video shooting. Focus peaking, for example, gives you a better idea of where you're focusing at. Plus, with Zebra highlight warnings you can be in control over the exposure knowing full well when they are blown out.
Finally, the tilting touchscreen. It is good but it does not give you the freedom to point it straight towards you while recoding yourself. A flipping screen obviously would have been a better option. Having said that the a6500 comes with built-in Wi-Fi and most importantly NFC. NFC ensures faster pairing and the ability to use your smartphone / tablet to remotely control the camera.
Fujifilm X-T2 Mirrorless digital camera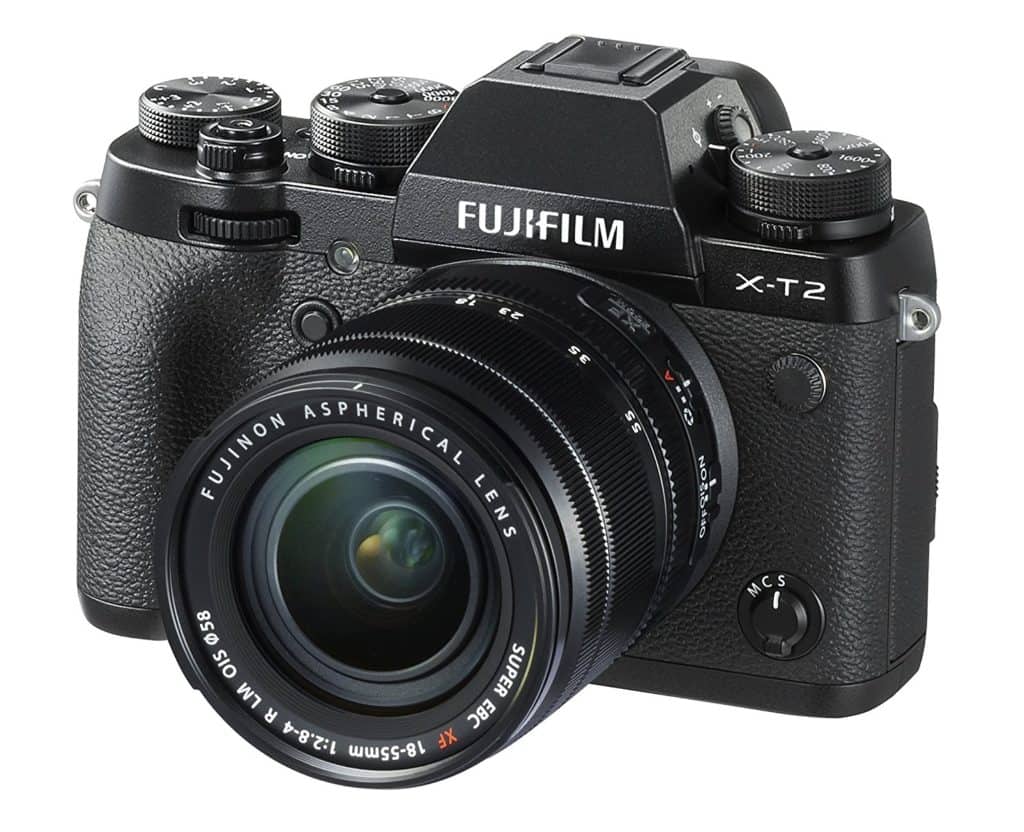 The Fujifilm X-T2 is a 24.3 megapixel APS-C X-Trans CMOS III sensor powered mirrorless camera. Image processing is powered by the X-Processor Pro Engine. The camera has the ability to shoot internal UHD / 4KVideo & F-Log Gamma.
The Fujifilm X-T2 oversamples when recording 4K / UHD videos. This is because when you record videos a larger area is readout than is required for 4K / UHD. The footages are then resampled into 4K. That suggests that any moiré and artefacts should not be visible in the final footages.
The X-T2 features an 8-bit 4:2:2 for HDMI output. If you are recording on the SD card, you get less color information 4:2:0. Additionally, the camera also has F-Log flat profile that captures a wider color tones which comes in handy when grading the videos during post-processing. However, it is to be noted that F-log is only available when you are outputting the video footages to an external recorder.
Unfortunately, the X-T2 does not have the Zebra highlight indicator and the ability to histogram in live shooting mode. These would have given pro videographers something extra to cheer about.
The X-T2 employs a hybrid auto-focusing mechanism that includes 325 points. While that may sound like a mere statistic, what we are interested about is how good the auto-focusing really is. Things like how good subject tracking is and how good the performance is in low light is what matters. And I must say that the performance of the X-T2 is admirable. It does a great job in subject tracking in continuous auto-focusing mode. It also does a great job even when the light is poor. So this is a great video camera for all types of lighting.
The Fujifilm X-T2 comes with an external mic input option as well as the option to output to a headphone (a first for Fuji systems). The first one ensures that you can record crisper sound using an external noise cancelling mic. The second one ensures that you can monitor the recording levels in real-time.
The Fujifilm X-T2 features a unique double hinged rear LCD screen. The double hinge gives the screen some unique flexibility. It pops out and then tilts and does some weird stuff. Yet at the same time it looks and feels like a proper flipping screen (well almost). I personally, love the flipping screen and I don't mind that Fuji retains that compact form despite the unique design of the screen. It has some usability but I still love a proper flipping screen.
A thing that most amateur videographers will love using is the built-in profiles on the X-T2. These include the Acros, Classic Chrome, Astia and Velvia. If you don't have too much knowledge about color grading and stuff. These are modes that you would love to use. These would give you great usable footages SOOC without the need for further processing.
The X-T2 is also a well-made camera. So more fun for you! You can take it outside and shoot in inclement weather without much of an issue.