Whenever I read lens or gear reviews on the net, I find myself bored with the endless pages of pixel-peeping and comparisons of the slightest details in build, when all I really care about are the practical facts – performance, price, form and any obvious faults. Is the lens good and worth the money with no better options? Yes? Then I'll probably buy it. So here's my no-nonsese review of the Panasonic Leica 12mm f1.4 lens for micro four-third cameras (mainly Panasonic and Olympus).
Here's a quick summary
It costs $1200, but you get what you pay for
It's sharp, even wide open with beautiful bokeh
Enables handheld shots in the dark on micro four-thirds
Best image quality in wide angle lenses for MFT cameras
Here's the full review:
F1.4 Aperture is pretty cool
I've owned this lens for one month now, and so far, it has earned the perfect score. This lens has revitalized my faith in the micro four-thirds sensor format. Previously before owning this beauty, I had all but abandoned my small Olympus camera for the Sony A7r ii. I often like to shoot at night, handheld, but most wide angle lenses for 4/3 cameras just didn't allow that. They lenses were too slow, and we all know the dreadful ISO performance of these tiny sensors. So when I saw this lens on Amazon, I instantly wanted it because of the max aperture of f1.4. Not only is it fast, it's also co-engineered by Leica, who are famous for producing flawless sharpness even wide open. Even thought this is not a "true" Leica, they still didn't let us down – performance at f1.4 is nearly flawless. The only fault you'll notice is slight vignetting wide open, easily corrected by an automatic lens profile on Lightroom.
Not only does the max aperture enable handheld night shooting and even low-light video on a whole new level, it generated some delicious bokeh balls – a feature often missing from 4/3 photography. You can also focus much closer than on most wide angle lenses, further highlighting the background blur. Needless to say, this lens having a Leica stamp, the quality of bokeh does not disappoint.
Image Quality
It's the best, sharp and beautiful with no defects…
I almost want to leave it at that. This lens is sharp as valyrian steel, producing top-of-the-line image quality, especially when stopped down. But as the above hopefully shows you, it's actually possible to get acceptable shots in the dark without a tripod, which I think is the real number one use of this lens. After all, tripods are heavy and you buy a MFT camera to save weight and space. This lens is the ultimate compliment to that.
There is significantly less barrel distortion or vignetting as compared to other lenses of similar focal length. If you want the best image quality at wide angles, do yourself a favor and skip the other choices.
Form factor, price and comparisons
A review is not complete without a big red negative minus sign, and for this lens, it's very easy to point at the ~$1200 price tag. For reference, my Olympus body only cost about half that, brand new and with a kit lens. However, I feel like high price alone can't really count as a negative, after all, what would you expect from a lens that outperforms all of it's competitors in every other category? Previously, I've recommended spending 75% or more of your budget on lenses as opposed to the camera body, and I still stand by that fact – this way, you'll get optimal IQ.
The Panasonic Leica 12/1.4 is a prime lens, which means it does not zoom. You simply can't get a f1.4 zoom lens that would make sense for this sensor format, as the zoom elements at such a high max aperture would be both ridiculously big and expensive. Therefore, the only reason I wouldn't recommend this lens is if you absolutely want to stick to a zoom lens, for whatever reason. For a comparison, I would recommend checking out the Olympus 7-14mm f2.8 PRO lens. This lens zooms and is quite sharp, but even at f2.8 it's still both bigger and significantly heavier than the Panasonic Leica 12/1.4. Personally, I got rid of my 7-14 in favor of this 12mm prime. The Olympus also doesn't take filters without modifications, while this PanaLeica does (62mm circulars).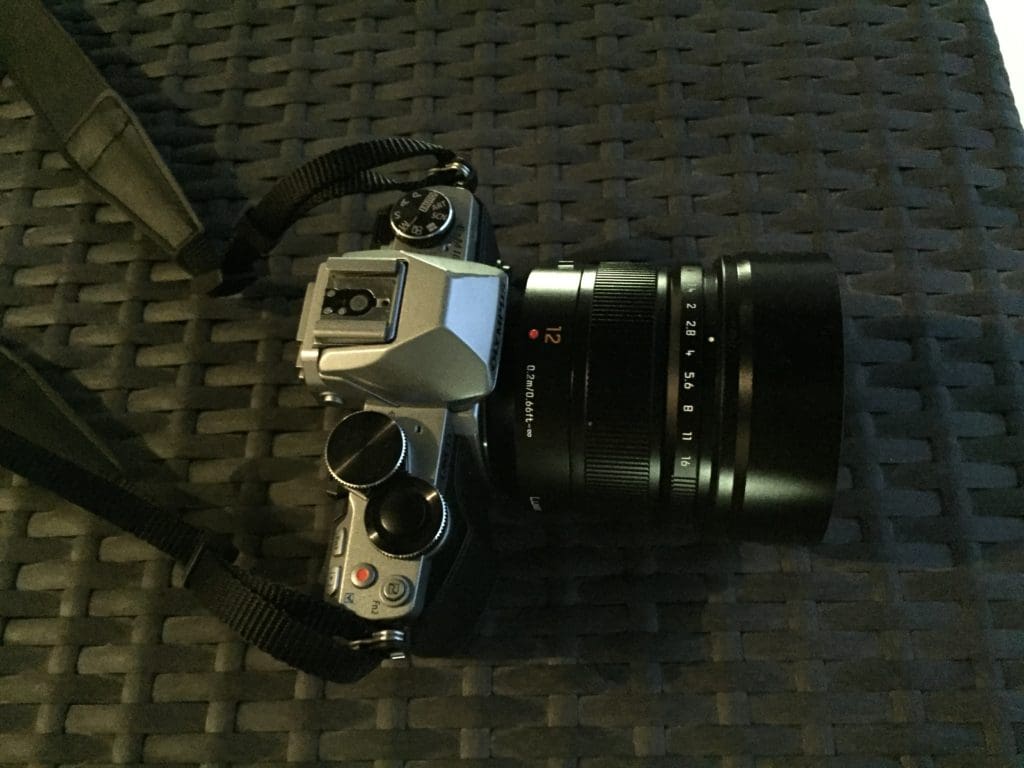 This is a native lens, so it will Autofocus nicely and fit in with no adapters. For those of you who do want to save money but are looking for something of similar focal length without a too big frop off in image quality, look at this Rokinon 14mm f2.8. It's only $400, but doesn't autofocus. Image quality is not too bad though. For more wide angle lens recommendations, check out an earlier blog post I wrote on the subject.
The Leica Panasonic 12mm f1.4 DG Summilux Lens is pretty much a luxury product, meant for those serious about photography. This can be seen in it's physical design – it's a sexy piece of glass, which also comes with a nice clicky aperture ring and a MF/AF toggle. It's surprisingly light, considering the specs and size. When I received my package in the mail, I was surprised to pick it up, almost thinking I must have been ripped off. If you have a chance to touch it, I recommend you find a camera store and do just that. Then, pull the classic – go home and order it on Amazon. It's what I did.