While I was visiting Japan in early May this year, I decided I wanted to get a good photo of Mt. Fuji. After some research, it became apparent that the easiest way to see it was at Lake Kawaguchi – to be honest, I didn't want too much of a challenge in terms of a nature expedition, as I couldn't drive in Japan with my expired driver's license – I wanted something accessible by public transport, an easy but fun solo trip.
I kept an eye on the weather forecast, as there would be no point going on a cloudy day. I got lucky, as the very following day was very clear and sunny. Better yet, even though there was a half-moon, it would set at around 2.30am, so there was even a chance to see and shoot the milky way – something I'd never successfully done in the past. After confirming the nice weather by looking out the window, I quickly packed up at 11am in the following morning and set on my way.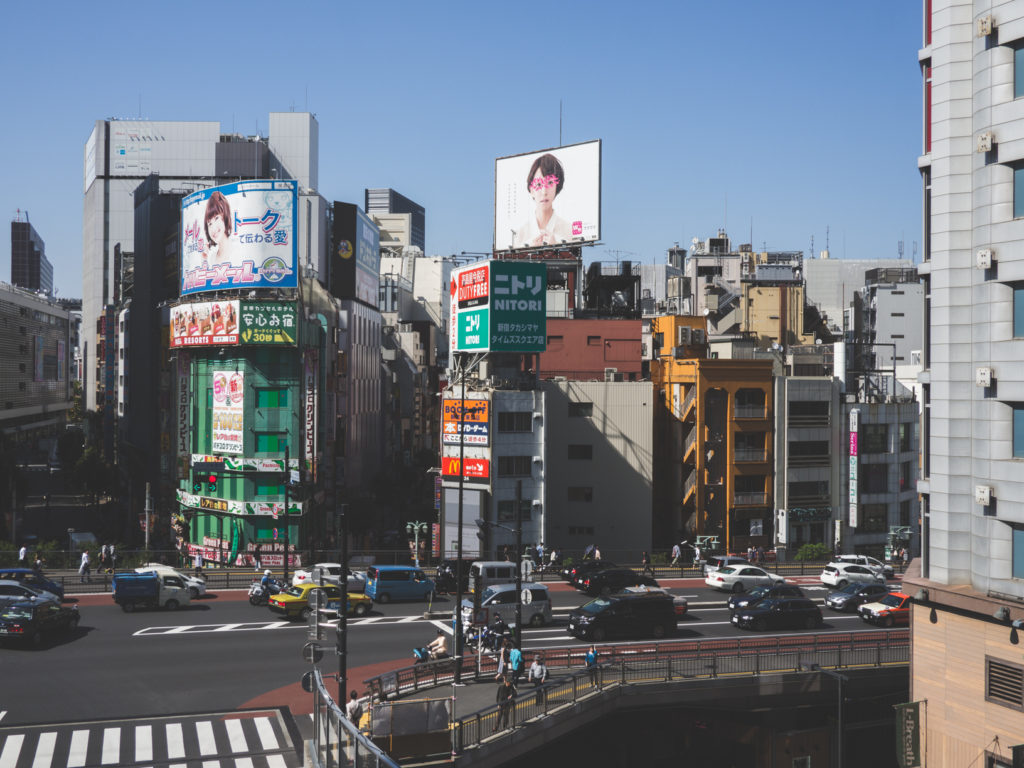 The journey begins in Shinjuku Station, the above is taken from the bus terminal there. A direct bus to Kawaguchiko Station is the easiest way to get to the destination, although one can also choose to take the train. While waiting for the bus, I was interviewed by some students – they even had video cameras. Was I famous already? Turns out not, they only asked some basic questions about my thoughts on Japan and "globalization", whatever that means. I told them more vending machines were urgently needed.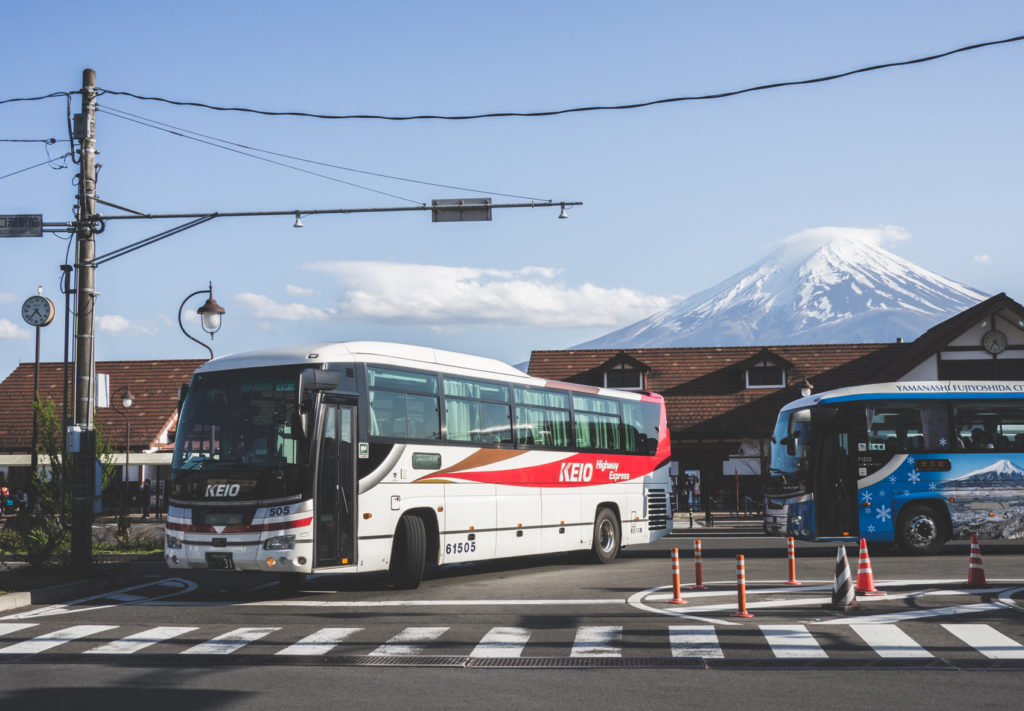 After the two hour bus ride, you're immediately greeted by the gigantic Mt. Fuji. As many things, it looks way more impressive in person. This is evident by the fact that as soon as the mountain can be sighted from the bus window, every tourist on board pulls out their phone and starts snapping away.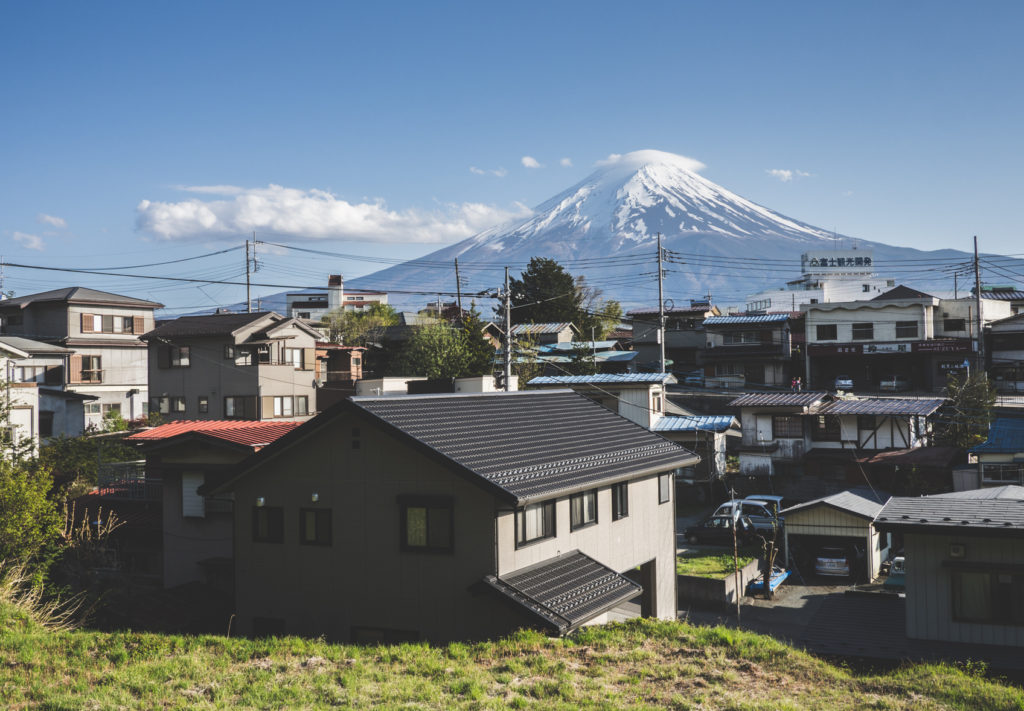 I had arrived at around 4.30pm, so I had some time left until sunset. It was time to scout the area for a good viewpoint. Scenes like above made me wish I had also packed a longer lens, but thought it would be too heavy to bring my 85mm. Spoiler Alert; after a few hours, I was very glad I didn't, as I was exhausted from carrying even the little gear I had.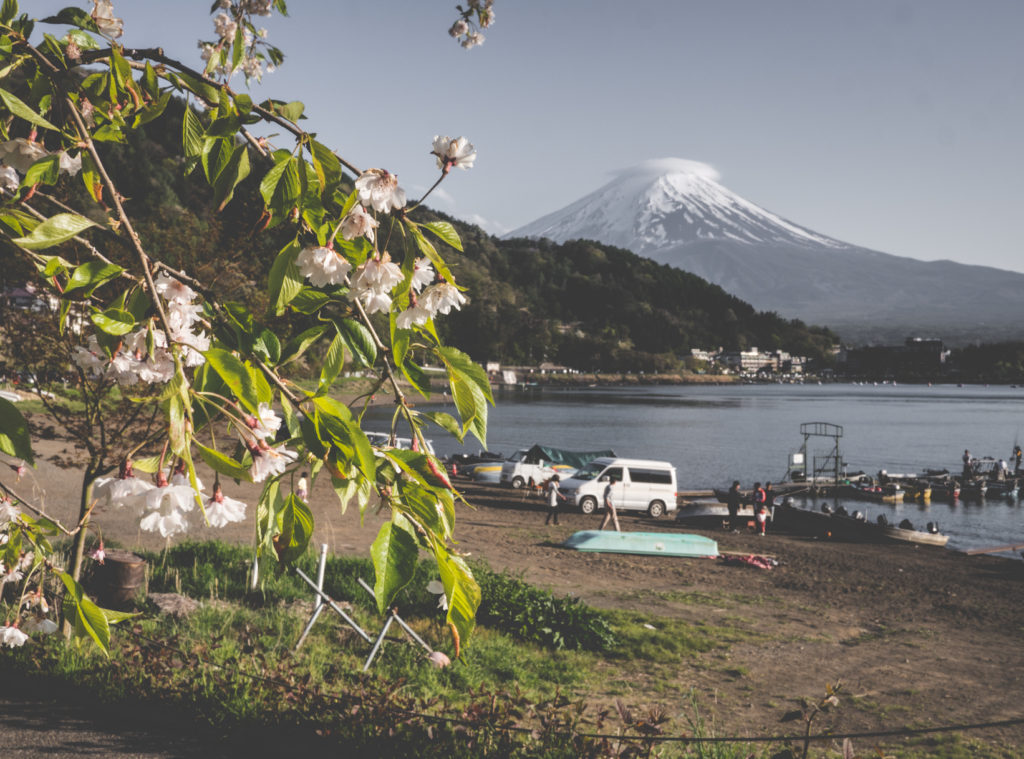 Once again I realized I should have come here 1-2 weeks earlier, it would have been amazing with cherry blossoms. Unfortunately, only a hint of late bloomers were left.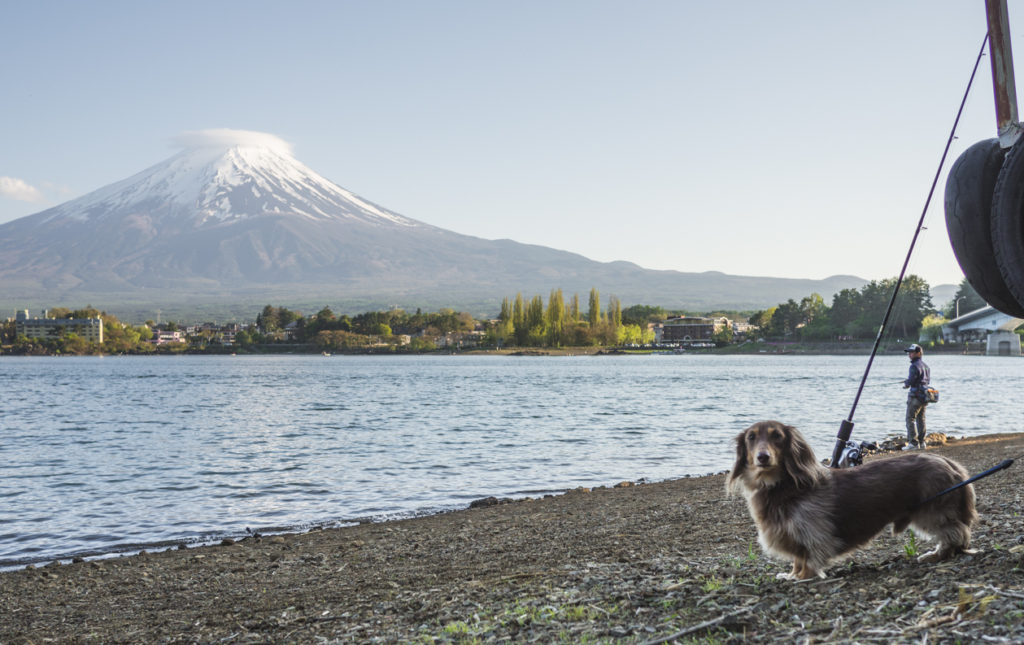 I settled on this part of the shore as the main shoot location as sunset was approaching.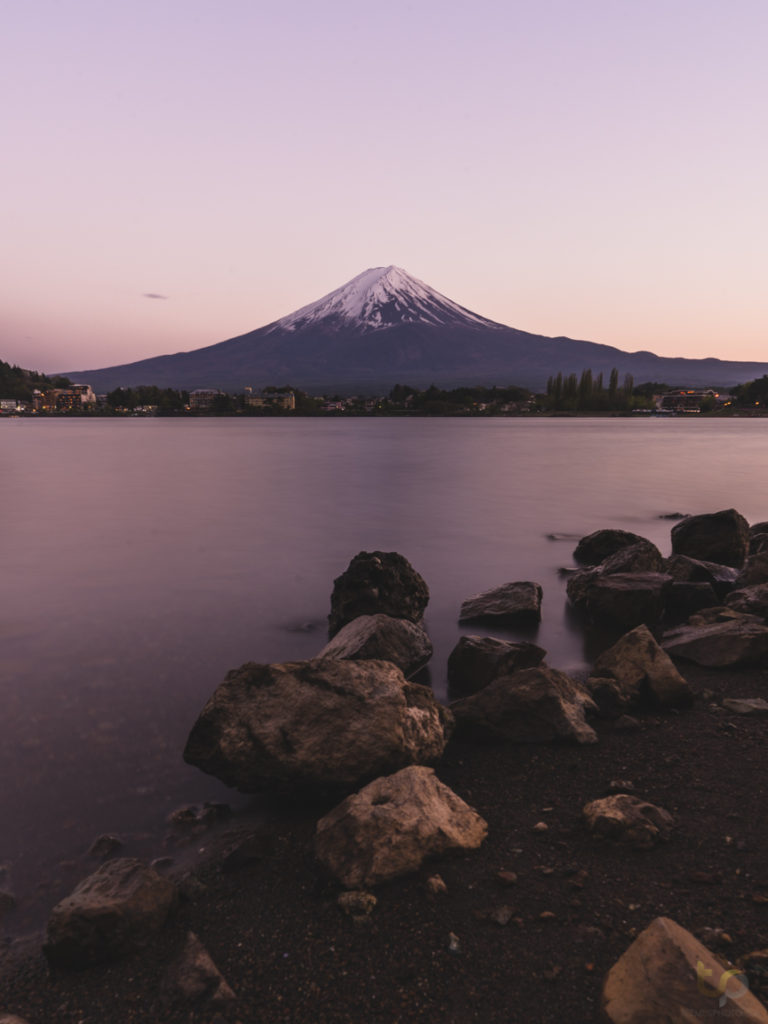 It was very clear so visibility was great, although the sunset was a bit boring as a result. Can't have it all. I started experimenting with some compositions, trying to get leading lines going, but not 100% sure on this shot, or the edit either.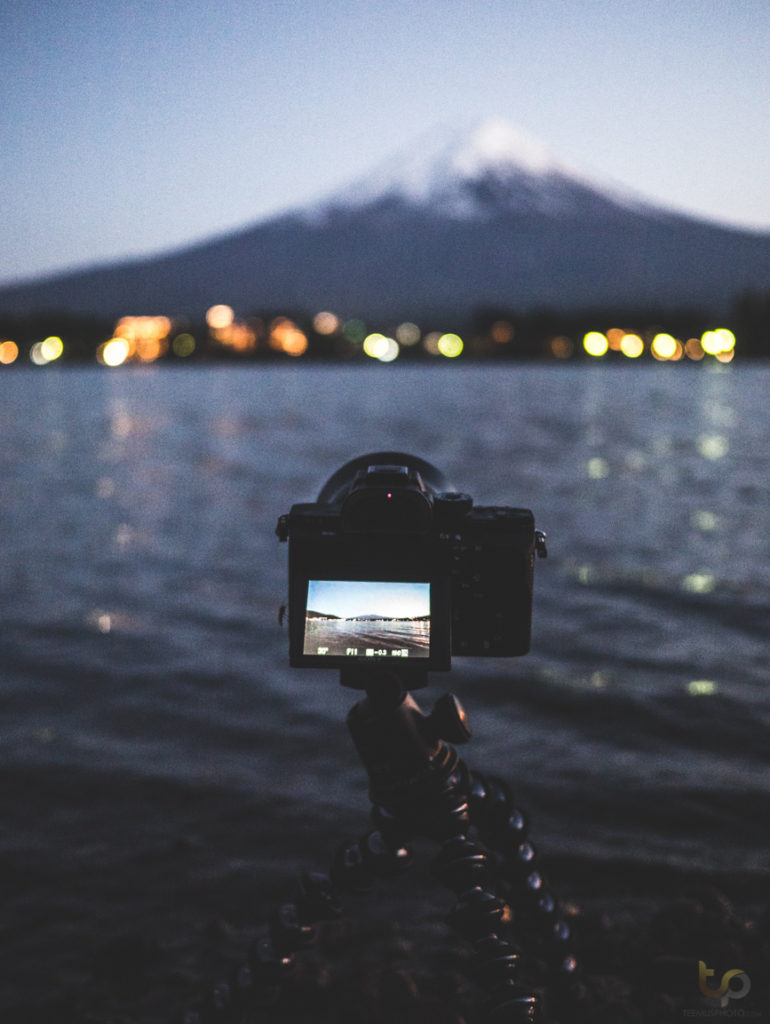 I had my trusty gorillapod with me, as long as the second mirrorless camera with the 20mm pancake lens from Panasonic. Reason was that I planned to shoot a bit of timelapses, and when I do, it gets boring without a second camera! Scroll to the end of this post to see my full packing list.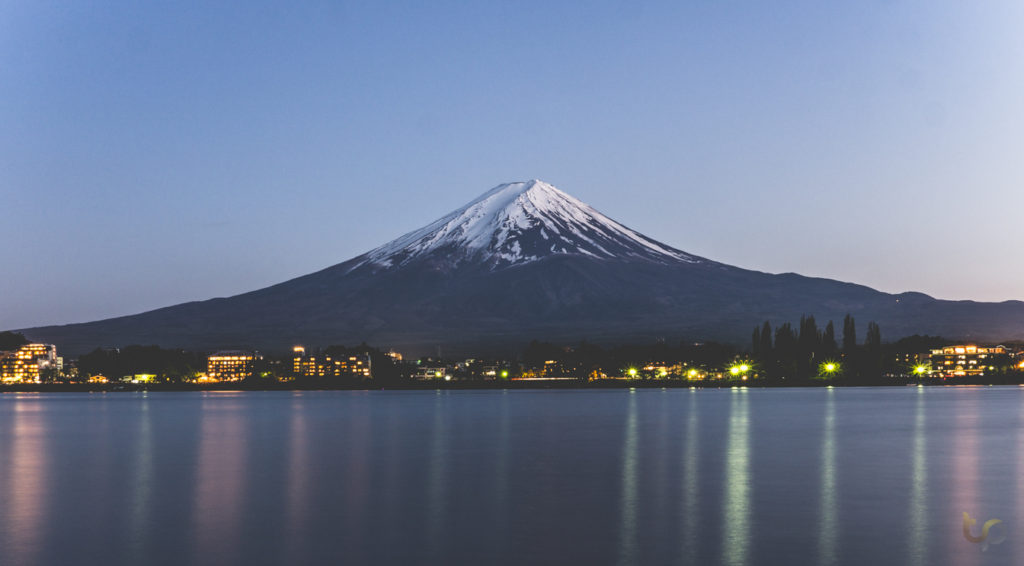 In my opinion, better shots were coming at night and at sunrise. Originally I wasn't sure if I'd stay overnight, but because I wasn't totally satisfied, I decided to go to a nearby hotel and stay there. I set the alarm clock to wake me up at 2am and fell asleep after my Lawson fried chicken dinner.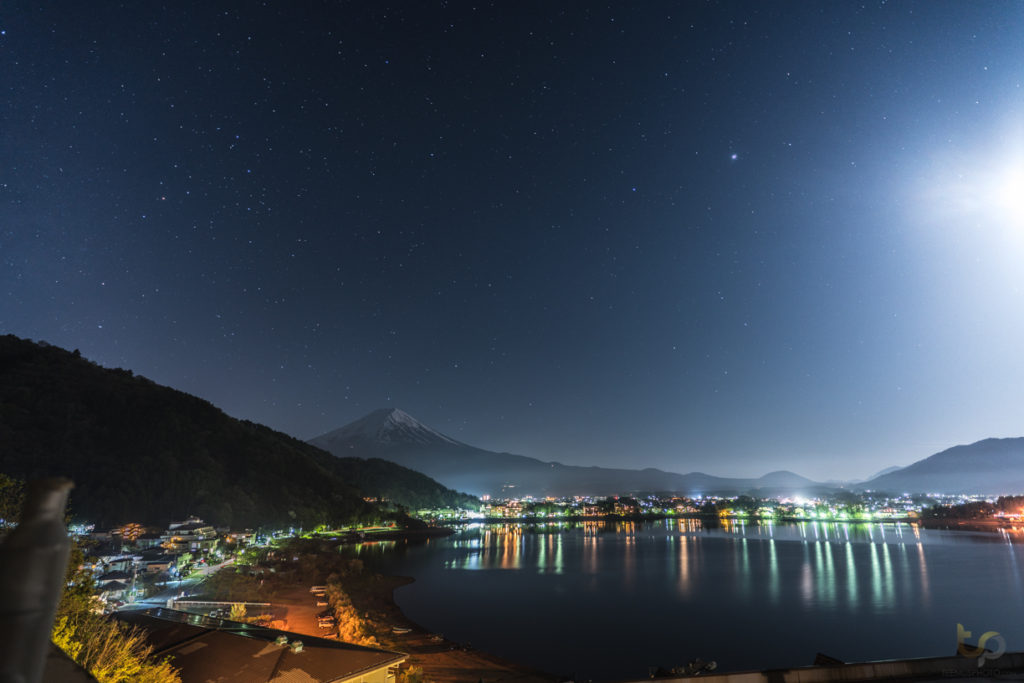 By luck, I got a room that had mountain views on the top floor. Or perhaps they wanted to charge me for the most expensive remaining room. Either way, I didn't mind. At 2am, the moon was still too bright to see any proper stars. But I had done some research and knew it would set at roughly 2:30, giving me an hour of possibility to shoot the milky way.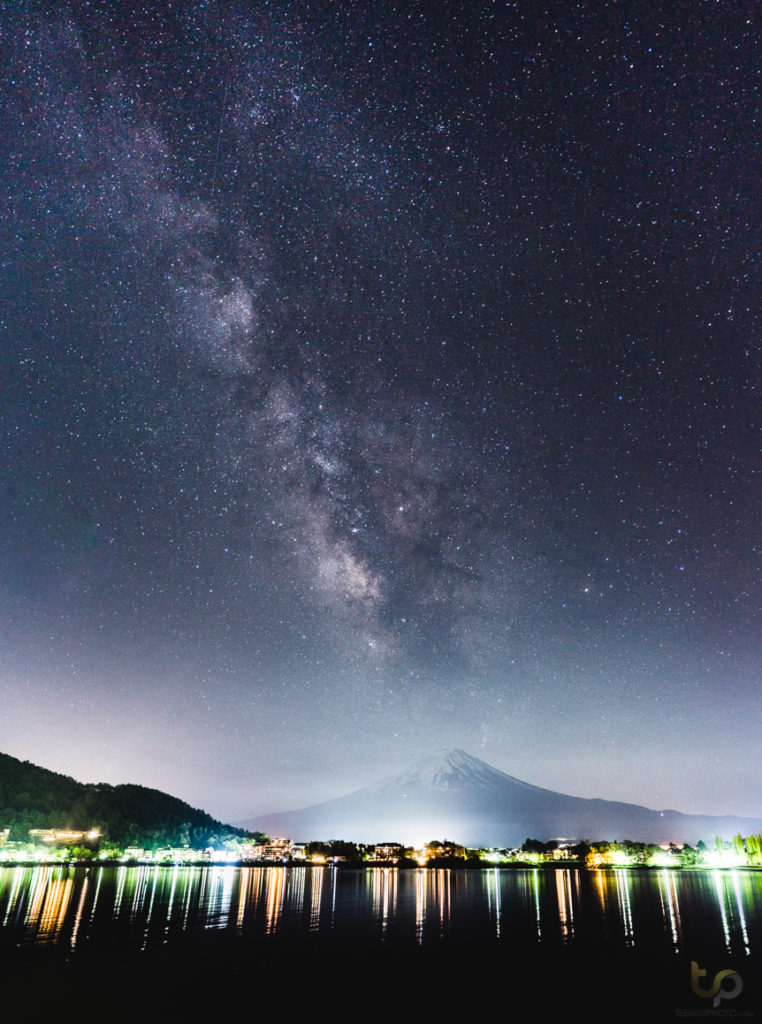 At 3am, the skies cleared from the moon and the sight was magical. It was a bit hazy, so visibility of the mountain wasn't perfect. This was the first time I ever got to shoot or see the milky way, and I was pretty excited. I couldn't believe the amount of shooting stars in the sky.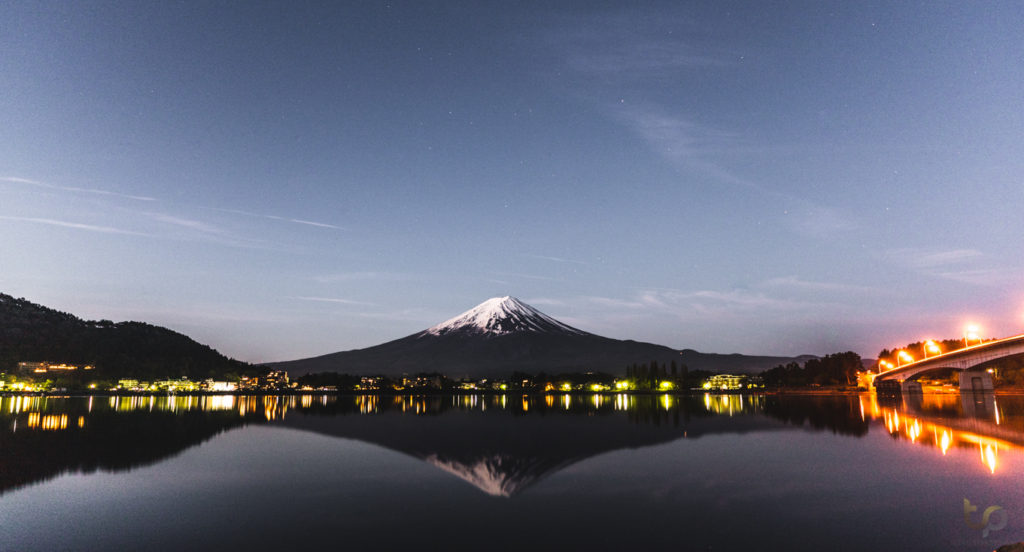 The first light of sunset was even sooner than I'd anticipated, giving me only about 20 minutes to see the milky way. I had planned to do a timelapse, but it was too late for that. Instead, I did a sunrise timelapse. One that I still haven't edited together, after about one month. I have a big backlog… However, here are some stills from the sequence.

The above shot was my personal favorite, despite no milky way. It is simply so calming.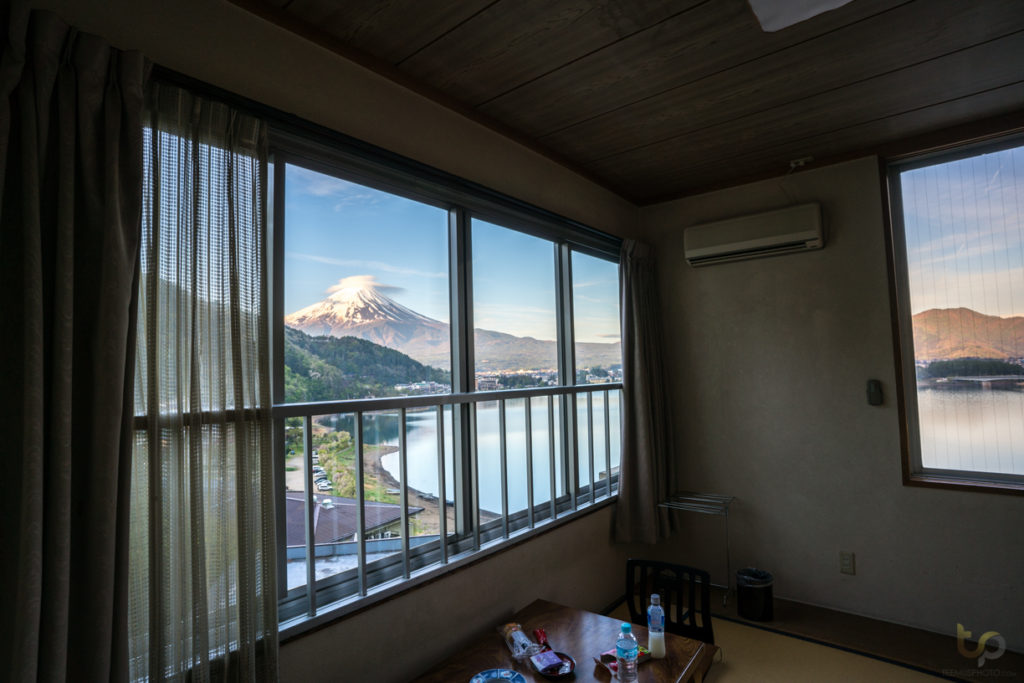 The interior of my Japanese inn hotel room.
In hindsight, I realize this would have made for a better story if I'd taken shots with more variety – as it stands, I have approximately 0 shots from the trip that don't include Mt. Fuji.
Let me know what you think!
What I packed
I took one backpack with the following gear:
Olympus Om-d Em10
Panasonic 20mm f1.7
A circular 4-stop ND filter
A circular polarizer
2 spare Sony batteries
A powerbank for my phone
For more Japan pictures, check my previous posts here: