The above video is something I've been working on for the past 4 months, glad to have it finally finished. Hope you like it!
This winter in Dubai has been amazing for photography. I've been incredibly lucky to be in the right place at the right time on several magical occasions. It all started when I found myself on the top floor of the Shangri-La Hotel during a rare foggy morning. I had rearranged the shoot about a week prior, but rescheduled to shoot the sunrise instead of the sunset once I saw the projected forecast. That gave me one scene for the movie, after that, I knew I wanted to make a full montage.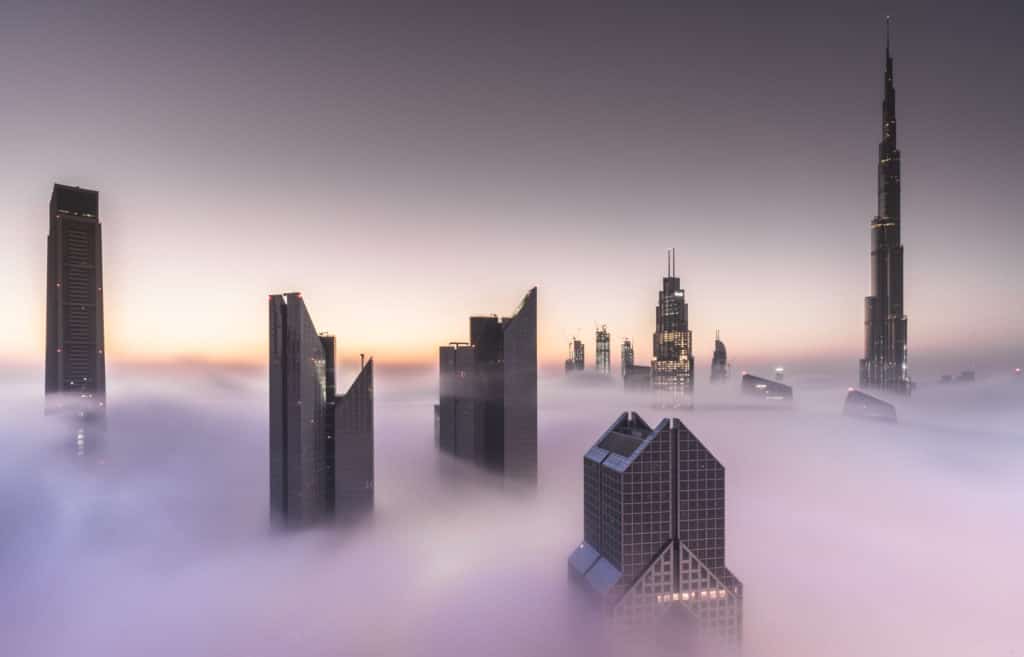 The Cayan Tower has one of the best rooftop views of Dubai Marina. I'd done a rooftop shoot there one time in the past and loved the building, so when my family came over for christmas holidays, I decided to get a short-term rental in that tower in order to host them for the duration of their stay. During our stay in the Cayan Tower, the weather was incredible, I was able to shoot several foggy sunrises from that very building with little effort. I stayed up all night for almost a week in a row, sleeping only after sunrise, but it was worth it for the photos and timelapse scenes I was able to capture. Again, right place, right time, almost purely by coincidence.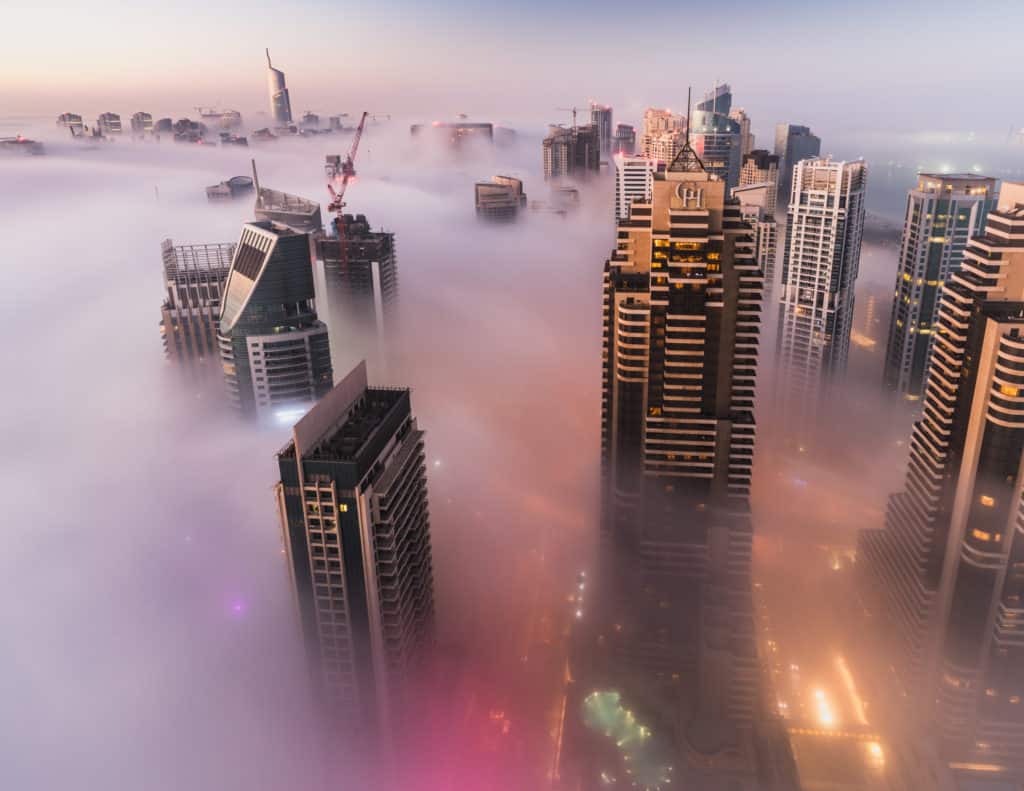 After that one week period of constant fog, that was the last of it in Dubai this winter.
In hindsight, I wish I had shot some of the fog scenes in shutter-priority instead of the A-mode. Shooting in Aperture priority made some of the night-to-morning transitions seem imbalanced in speed due to the changing shutter speed. Using a faster shutter would also have made for a higher framerate and a smoother movie. At least now I have a plan for another movie next year!
By the way, if you're interested in learning more about timelapse photography, you may want to read this short tutorial I wrote.
Once the foggy season was over, I started looking at the weather forecast pretty much daily, hoping for more. I kept staying up late for a few weeks, but the fog never returned in proper form, except a very small amount of fog sometime in February that wasn't nearly as spectacular.
That wasn't all though. I'd heard of thunderstorms being very rare in Dubai, in fact I'd never personally witnessed one. Still, there was bound to be at least one per year, usually in March. I'd always wanted to get a photo of lightning striking the Burj Khalifa, so that was my mission from then on. I once again refreshed the accuweather page multiple times per day and kept looking at Google News until a storm forecast was approaching. I made sure to be at the right place at the right time again – I tried a few places, but settled on Index Tower in downtown.
I recorded the ensuing storm for hours and hours, 3 days in a row. I got a few shots of lightning, but never really the one I wanted. I was ready to stop, accepting that maybe the Burj Khalifa doesn't attract lightning as easily as I'd imagined, but was still happy of the other lightning shots I'd gotten. The forecast said the storms were over, but suddenly I saw a flash of light and hurried to set up my camera for one last try. This time, the storm was violent and approached downtown very fast. It was over what seemed to be less than 20 minutes, but the lightning was bright and constant. I didn't actually catch the impact with my bare eyes, but when I looked through the shots after the storm was past us, I was quite excited to find that I'd finally gotten the shot I always wanted – even though it didn't look as good as I'd kind of hoped.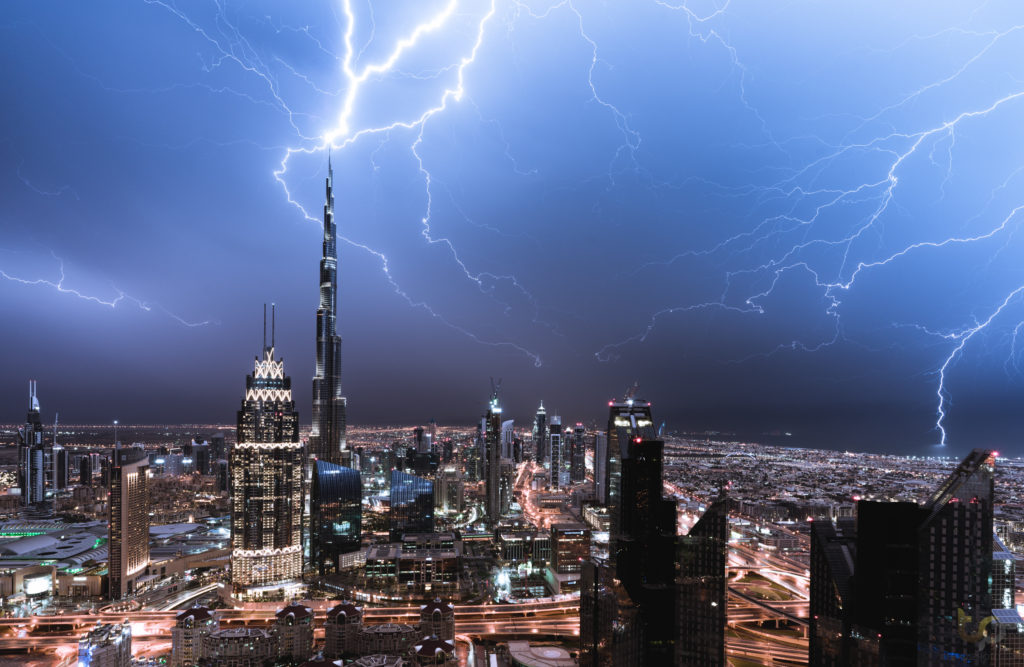 The small issue with this shot was that the storm had made the buildings covered in dirty sand/dust, and the flash was super bright, that the result was somewhat weird-looking. It took me hours on Lightroom to edit into a version I was happy to publish. Even then, I feel it's not as visually pleasing at it is special. Regardless, it's still one of my favorite moments in photography all time. As a bonus, this was a timelapse scene, so it was a nice addition to the movie. Apparently, even newsworthy.