I shot some of my favorite images of all time in Sapporo during January 2019. This year, I wanted to go back for a few more weeks to try and "finish" the photo series and maybe put it out in a book. So I headed back to Sapporo during end of December and stayed in Hokkaido for about 3 weeks.
If you'd prefer to watch instead of reading, I just uploaded this article in Youtube form below:

I LOVE Sapporo because it has everything I love about Japan, plus a lot of SNOW! Snow makes photos even more interesting and special if you're not used to seeing it, and it is extremely rare to see Snow in a lot of the southern parts of Japan, including Tokyo. But in Sapporo, it usually snows on half of the days during January and February.
I didn't have the best luck with snow during this trip though – it did snow a lot, but seemingly only during super late night hours, 2 to 5am. I only saw 2 snowy night in Sapporo during normal hours, and they both were only brief compared to the massive and constant flurries I got in 2019. But I wasn't back there to repeat the same images I took back in 2019, I wanted to approach shooting the city slightly differently this time, as well as travel around the other cities of Hokkaido and see what they had to offer as well.
Taking a different approach during this trip, and the fact that snow was scarce, caused me to be less successful in terms of quantity of good images compared to last year. But I did get a couple of keepers, and had a ton of fun during the trip, so I consider it very much a success. In this post I'll go through the success and failures, as well as share the pictures and the journey with you guys.
Part 1 – Arrival and week 1
Before leaving Taipei, I bought the biggest warmest jacket I could find, which was difficult because Taipei isn't that cold. I found this jacket but had to buy it oversized because of lack of selection – I didn't mind looking a bit ridiculous, because I thought I'm just gonna wear it for a week or two then get rid of it. Of course I ended up wearing it for the next 4 months, looking ridiculous the whole time! But at least I wasn't cold.
I took a flight in a glorious Eva Air Hello Kitty Plane and arrived in Sapporo. I was gonna stay in a central hotel in Susukino – AirBnBs are cheaper here, but I wanted a hotel with a gym and the options were quite limited.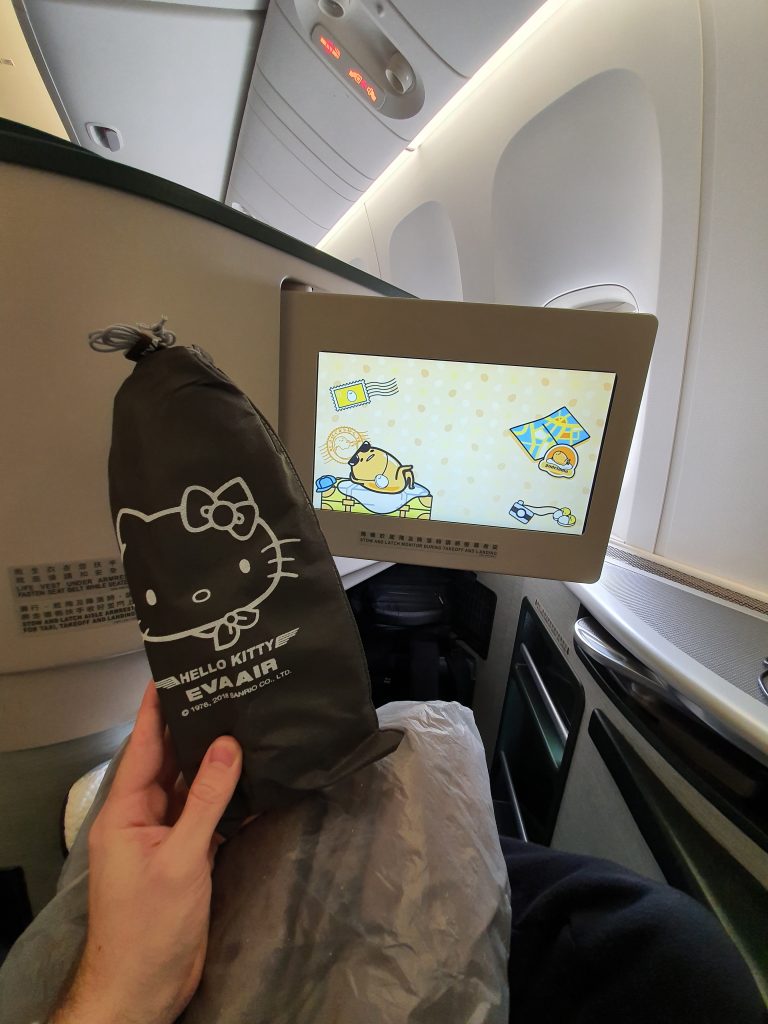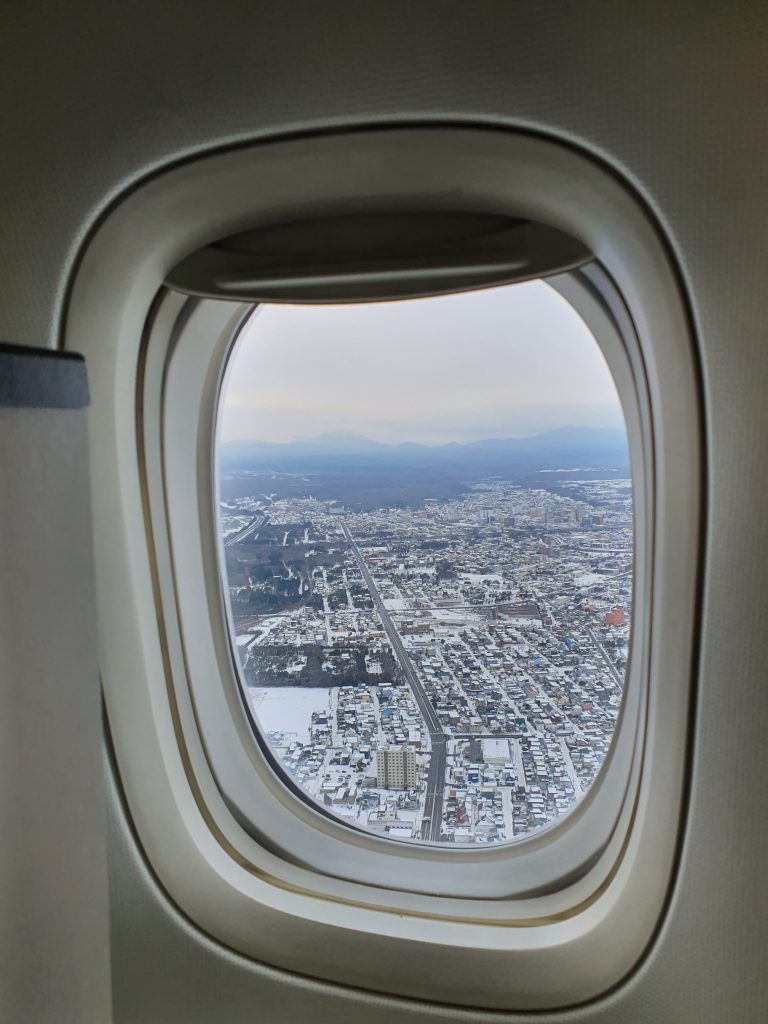 It was a decent enough hotel with a Lawson right downstairs, which happens to be my favorite kombini thanks to their delicious chicken nugget snacks. Often, after a long day of walking around, these would be my dinner. Which was awesome for about the first week but after that it started to get really old.
During my first week in Sapporo, it seemed to ONLY snow during 4AM. But thanks to a really screwed up sleep schedule and the central location of my hotel, I was still able to go out whenever it was snowing. Accuweather usually gave very accurate predictions, and using the radar feature also helped me predict timings of snowfall which really helped optimize the time I spent out shooting .Snow photos were my big goal and I'd already visited and explored the city last year, so I didn't care too much about being out if it wasn't snowing. After all, I'm a digital nomad so this wasn't a pure holiday, I had other stuff to do during the times I wasn't out taking photos.
The city feels extremely peaceful in the middle of the night on weekdays when everyone is sleeping and the snow is falling gently.
But for whatever reason, I failed to properly capture that feeling in most of the photos I took this time around.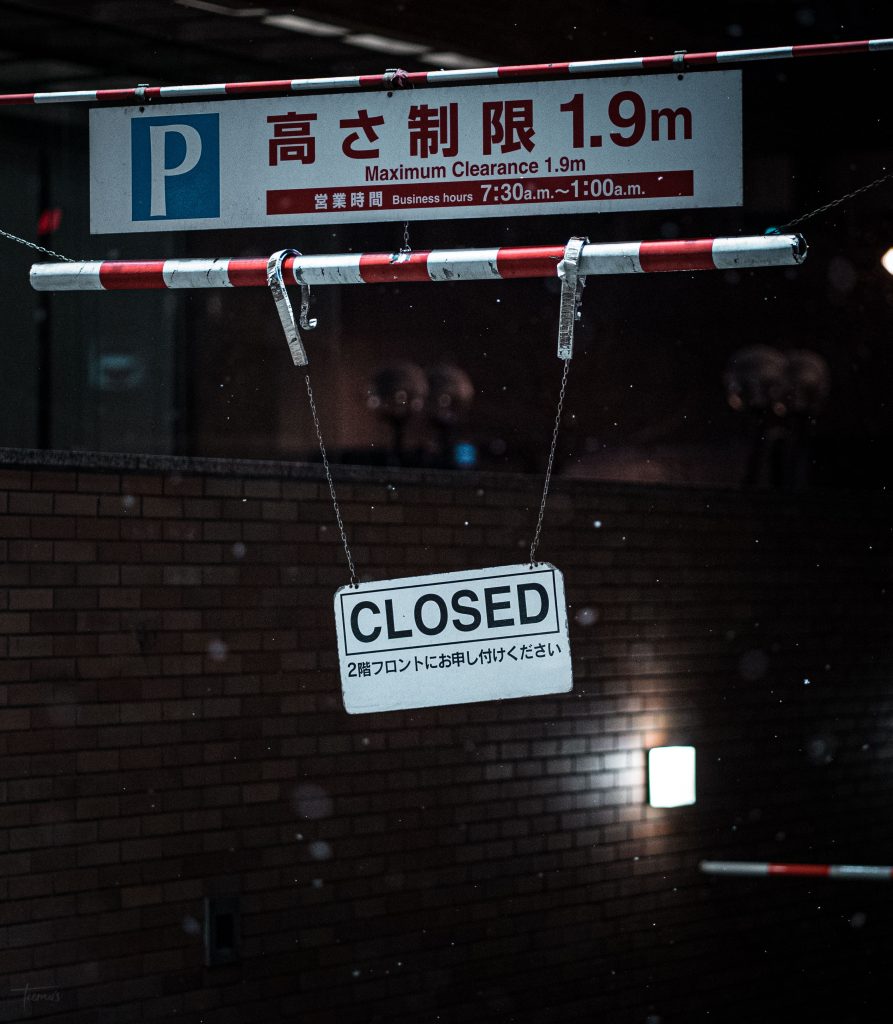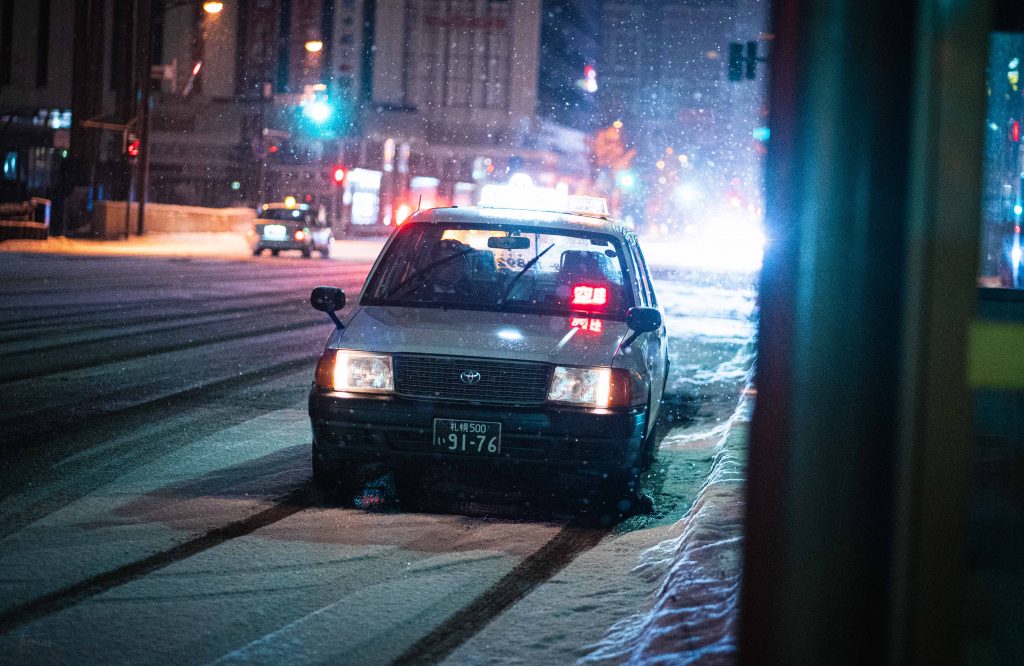 I had more success doing a photoshoot last year in similar conditions, but I was aided by more snow and I was also walking in different areas, using a different lens and fueled by the excitement of it being my first trip instead of the second.
The photos weren't TERRIBLE, but they still left me wanting more.
Otaru
On my last trip, I only stayed in Sapporo. This time around my goal was to explore the surrounding areas a bit more.
Ideally in Hokkaido, you'd rent a car and drive around. But I don't have an international license and the last time I drove a car was like 8 years ago, so that wasn't gonna happen. Another thing about being a digital nomad was the fact that I can't exactly travel light because basically everything I own has to fit in suitcases, and it just gets really old having no stuff at all if you live like this for more than a few months. Especially when you're into a hobby like photography. So both those factors always limited me from doing long-form road trips or staying super mobile or constantly on the move. I'd always rather have a base city I can take daytrips from. But it's such a pain in the ass lugging around 2 suitcases in a train which has limited me from adventures. But at least I was gonna do some daytrips from Sapporo this time, Otaru being about an hour away via train.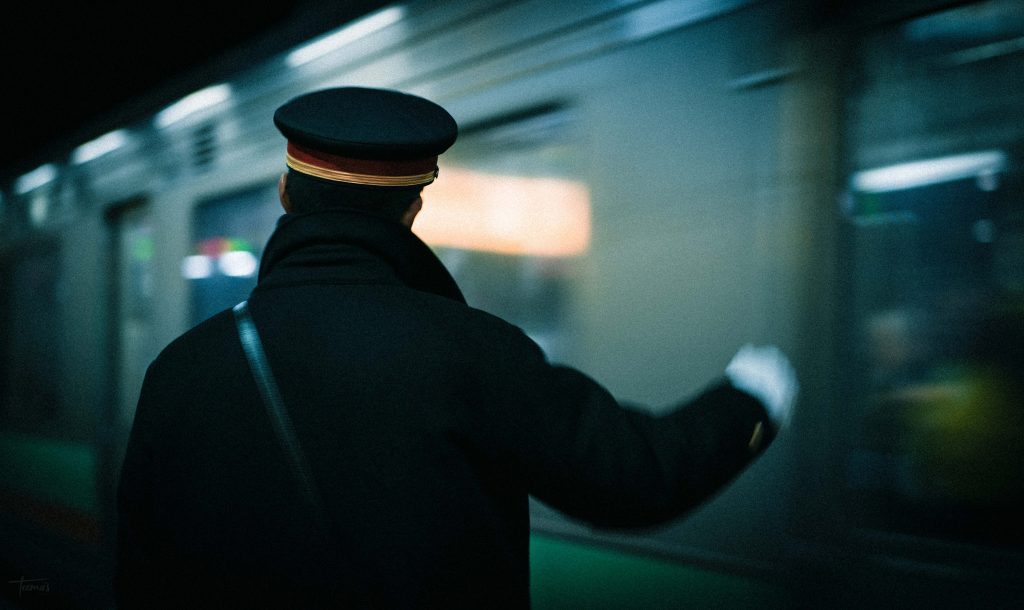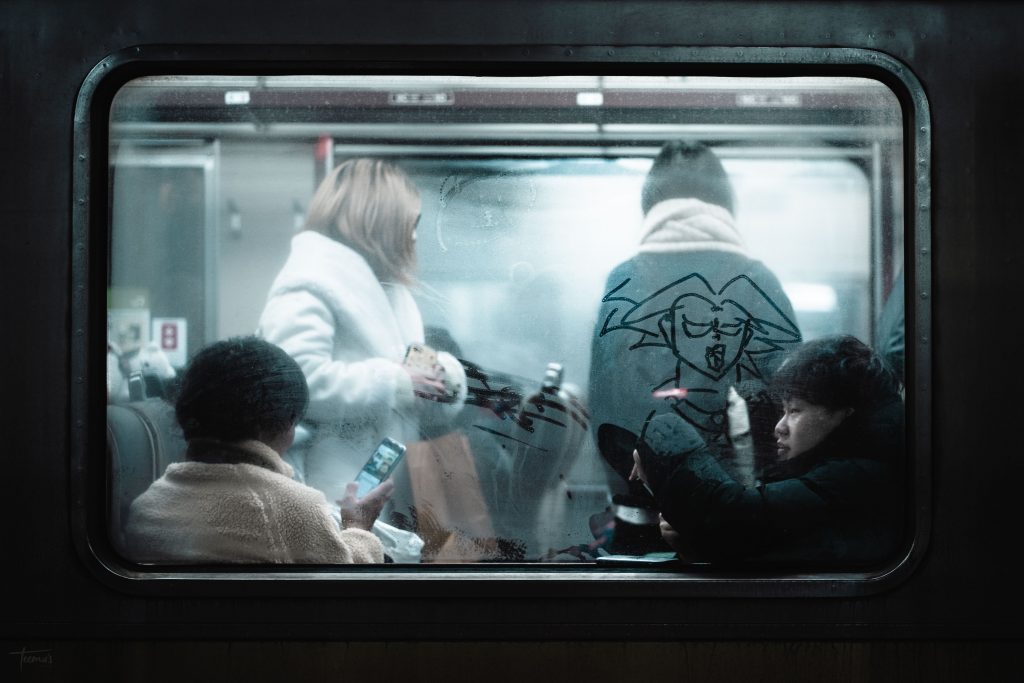 Unfortunately my off-streak continued on this trip as well, my only interesting photos were taken at the train stations. But sometimes Japanese train stations can be super interesting, so I don't consider it a total failure. And it was fun exploring Otaru. Next time, I'll try not to suck at photography, because there definitely were areas that had potential, I just couldn't make the photos happen this time.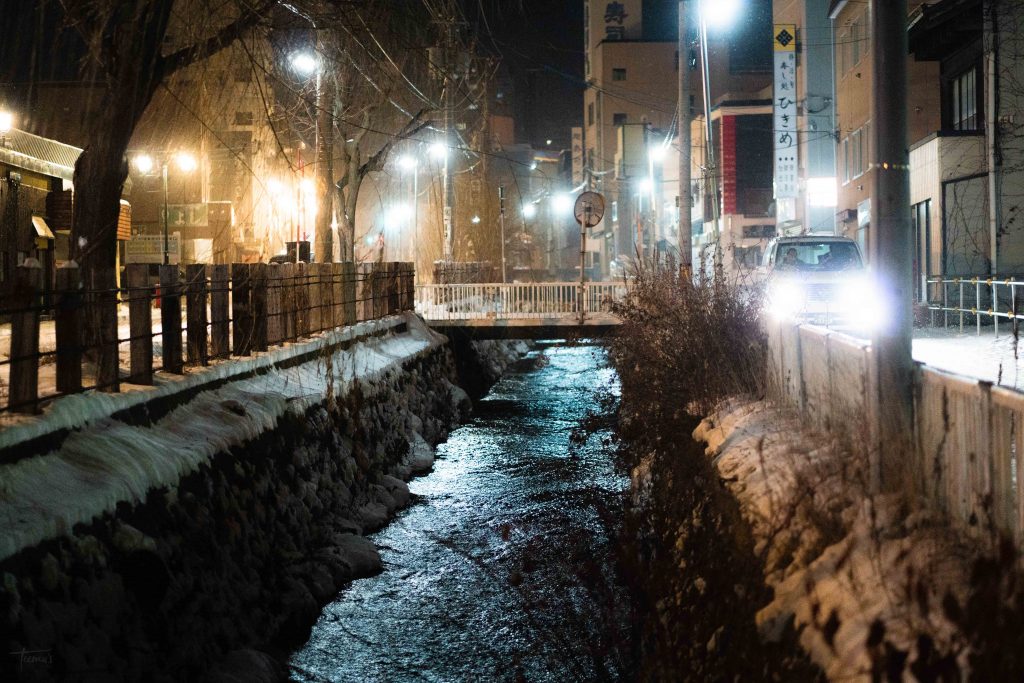 Back in Sapporo
On the last few days of 2019, the weather warmed up to positive degrees celsius. The snow melted, and we even got a day of regular rain. It was slippery as hell and my feet were completely frozen, but at least I got some shots and it was nice to see the city in the rain for variety's sake.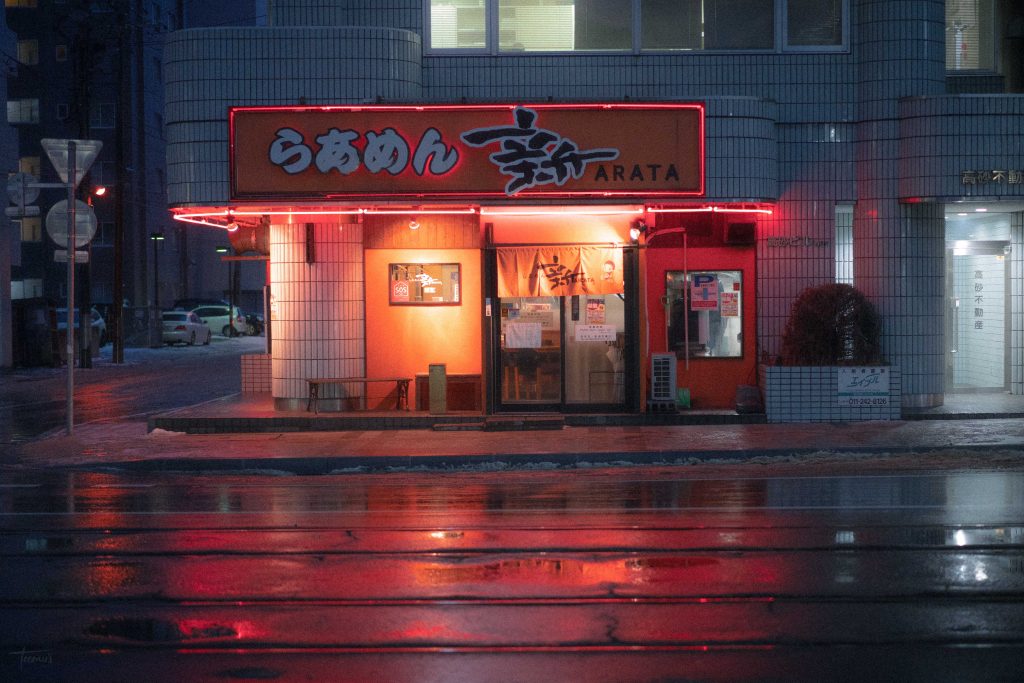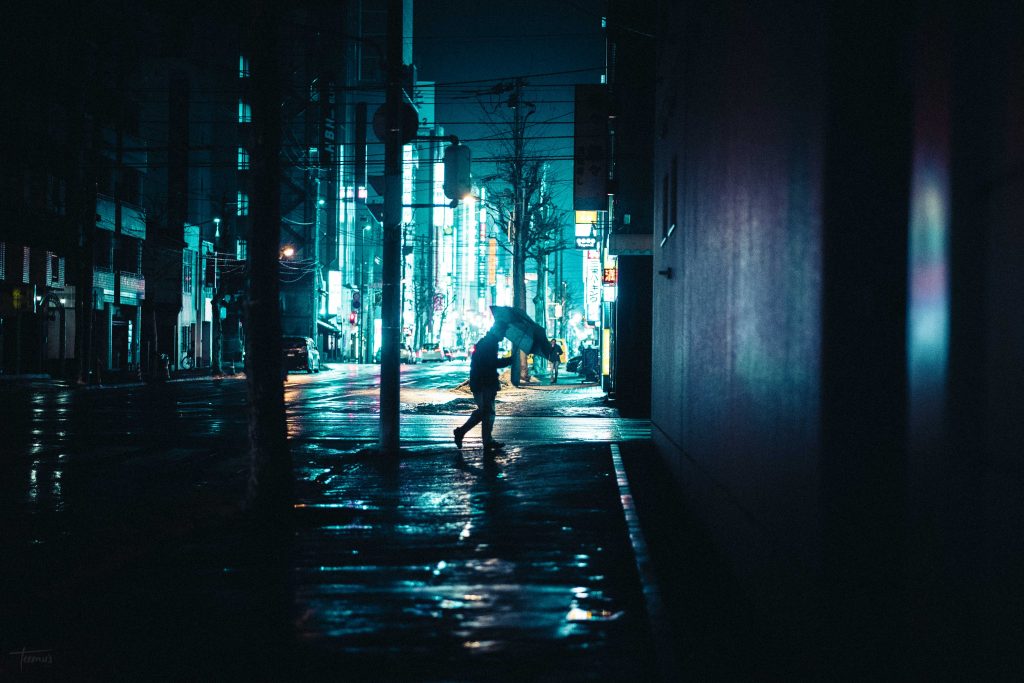 Asahikawa
January 1st ended up being my favorite day of this entire year – it was all downhill from there!
2020 arrived with literally 0 fireworks. In hindsight that is very fitting, although the reason for that is that Japan simply doesn't celebrate NYE like we westerners do. I took a brief walk in downtown Susukino and even weirder is that this is the only time I've seen almost every bar in the area closed and the streets totally empty. New years is a family holiday in Japan, nobody goes out like we do in the west. In Tokyo you'll still find celebrations, but in Sapporo there were none at all.
On the first day of 2020, I decided to take another daytrip, this time to Asahikawa. It's much farther, which means that you can take an express train, so fortunately the trip lenght stays the same at around an hour – it's just more expensive costing about 10,000+ yen.
It started to snow heavily on the last quarter of the train ride, and it continued long into the night. This was the best snow I'd see(n) all trip, and downtown Asahikawa was very charming in it. Hilariously, January 1st ended up being my favorite day of the entire year, it was all downhill from there. But at least I got more than a few shots and videos that I was happy with.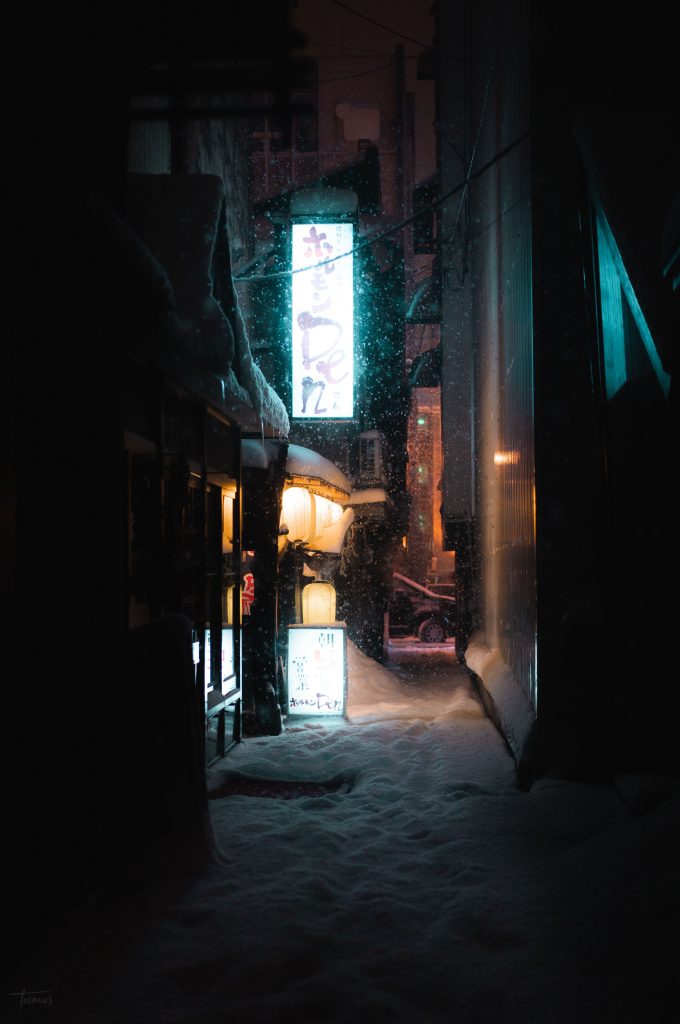 I was also experimenting with a few things on this day. First, I was using a flash to exaggerate the snow effect, and I had moderate success with this. It was the first time I ever even used a flash. On some level I like the flash shots, but on other's I still prefer the photos without flash, because they're more minimal and simple.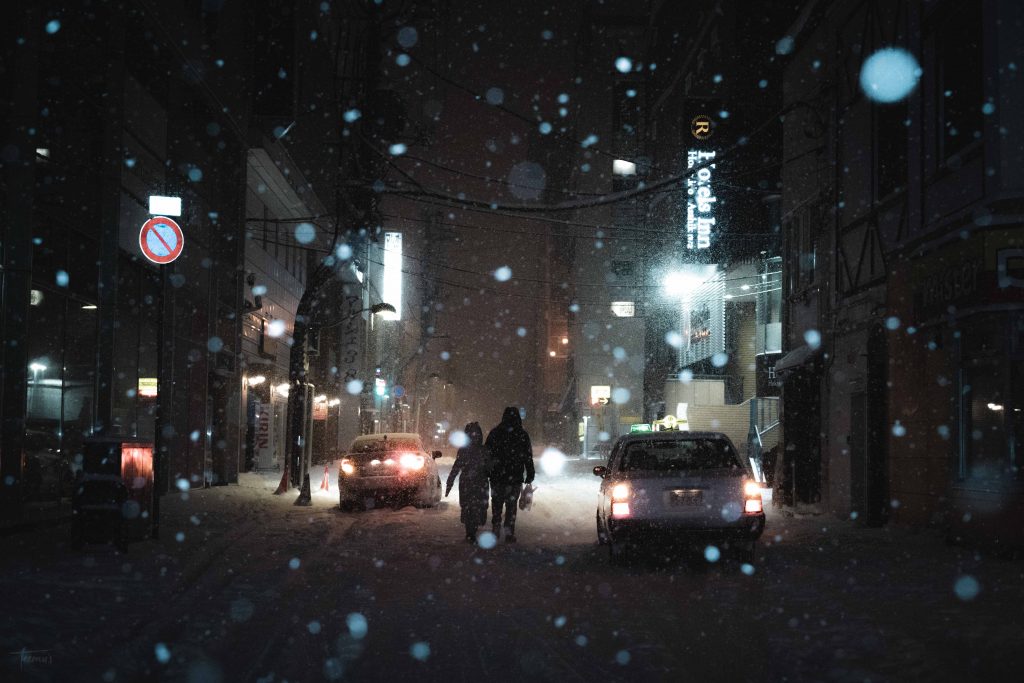 The second thing I was experimenting with was this pocketable fog machine. I had a theory that if I could add some fake fog into the foreground of my images, it could produce a cool effect and I wouldn't have to spend so many sleepless nights just waiting for tiny chance of seeing real fog, but in reality this just didn't work as well as I'd hoped. (If it did, I probably wouldn't even tell you guys this trick lol).
First, this wasn't really fog or steam but rather smoke. The device worked like a reverse vape, using similar ingredients and it produces something that is closer to smoke or vapor than actual fog or haze. Secondly, wind direction heavily impacts the direction the smoke goes, and it simply evaporates too quickly to be used outdoors consistently. Also, the machine has started leaking recently which makes it a huge pain to travel with. It has a narrow use case as a pocketable haze machine for indoors though.
But ignoring these two experimental gimmicks, the heavy-ish snow in Asahikawa was some of the best of the whole trip and offered some seriously great scenes at almost every corner. The lighting in this city was also quite suitable for photograhy, and there was just enough people around to get some subjects in these shots as well.
I shot some regular street photos but I also was concentrating on some more minimal photos with no people around, just a mood. There were some beautiful little alleys and restaurants in this town for that.
Despite my face and feet being completely frozen by the end of the day, I was very satisfied with the results and barely noticed being cold. It was only on the way home that I realized how soaked and hungry I was. I bought some snacks and coffee and had a conbini dinner on the train ride back to sapporo, it was quite comfy really.
Back in Sapporo
After returning to Sapporo, I got a sick for about a week with …flu like symptoms. I always wonder about that in hindsight considering it was early January. I couldn't do much for a week, so I extended my reservations and waited to get better, as I felt that I was not done yet and I didn't want to wait until next winter to get another chance. I'm lucky to be location independent to have the chance to do this so might as well take advantage of that right.
As I started feeling better, I got a few more chances to shoot Sapporo in the snow again. The first of these days I focused on shooting people, again just to do something different. I knew it's not really my style but it's always good to experiment so things don't get too repetitive. Most of the shots turned out meh, however, I did also get my favorite shot of the trip on this day: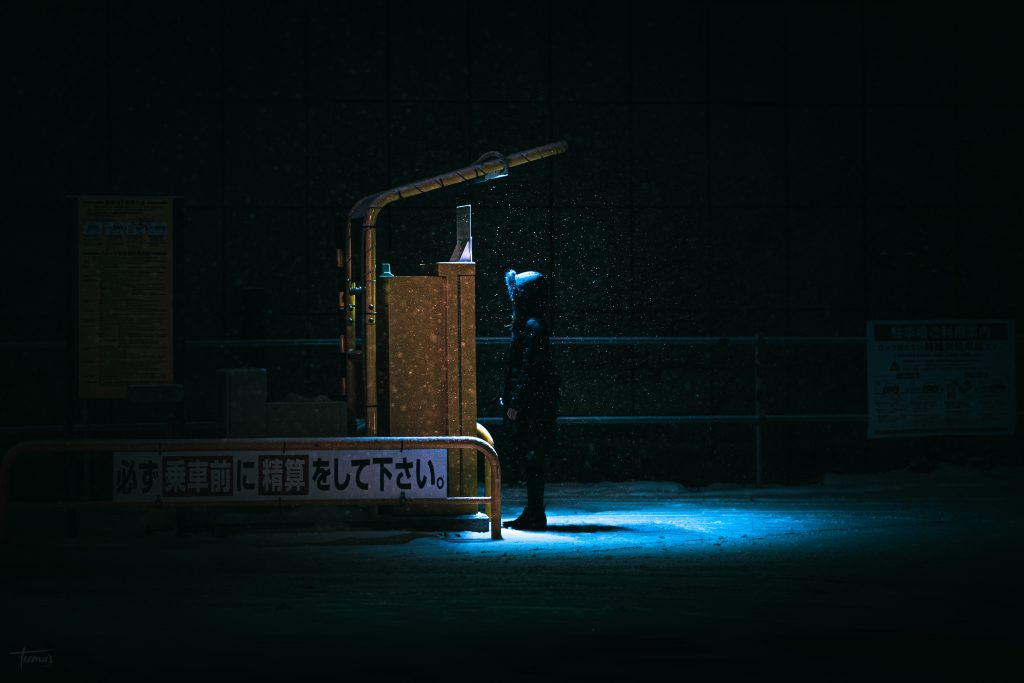 The rest of the trip it went back to only snowing during 3-5am, some photos were ok but I was still struggling.
By that time the weather forecast was looking very dry for the next coming week plus, so I decided I'd had enough for the year and decided to head to Tokyo instead.